Budgeting without a plan is a dream; this is where the 50 30 20 budget calculator can help you. If you want to control your finances and feel more secure and stable, try becoming a better budget planner with a 50-30-20 calculator showing you how to divide your monthly take-home pay into multiple categories.
The easiest way to start is by assessing your current financial situation and entering your numbers in the calculator below to see how you're doing. Enter your monthly net pay in the calculator below. Make sure that you're not using your gross income in the calculator.
If you want to save your budget plan in the excel file, you can skip to the 50 30 20 budget excel template.
50/30/20 Budget Calculator
The budget rule 50/30/20 was introduced in 2005 by American senator Elizabeth Warren when she published the book: "All Your Worth: The Ultimate Lifetime Money Plan". Today, it is a widely known money management rule used by many individuals in personal finance budgeting.
"Save money and money will save you!"
Budgets are not as dull as they may seem, and it's quite the opposite. Financial life and decision-making become more manageable and quicker once you start following a budgeting plan. Before we get to budget categories and how they are divided, let's educate ourselves on the basics that we should understand.
What is a monthly after-tax income?
After-tax income (also known as monthly take-home pay) is the total amount of money an individual has left after all taxes have been deducted from their paycheck. This includes federal, state, and local taxes. Monthly after-tax income can fluctuate depending on the amount of money an individual makes and the tax bracket they are in.
It's important to know what your income is so that you can budget accordingly and make sure that you are not overspending. Several online calculators can help you to determine your after-tax income.
50 30 20 rule – budget categories
The basic principle is to spread your after-tax income into three categories: 50% on needs, 30% on wants and 20% on savings. Many people worry about where they spend money and whether they do it right. It's great peace of mind if you've taken care of your financial obligations and savings beforehand because you know how much and what you can afford. Let's take a closer look at each category and what comes in it.
Needs budget – 50%
"Needs" is the biggest category of all. These are your obligations and absolute necessities:
Mortgage (The minimum monthly payment)
Rent
Utilities (Electricity, gas, repairs, trash, etc.)
Insurance (House insurance, personal insurance, car insurance, etc.)
Groceries (Food, hygiene products etc.)
Transportation
Phone bills
Loans (I.e. Study loans, car loans, etc.)
Childcare
Healthcare
Etc.
Wants budget – 30%
The coolest part of your budget. This part goes to pleasure, hobbies, style, beauty etc. However, don't go crazy and remember, that more money doesn't necessarily mean that you have to spend it all. Personal spending can also be done smartly.
Here are some examples:
Clothes
Improvements (Better phone, furniture, house improvements, etc.)
Dining out (Restaurants, cafes, fast food, etc.)
Gifts
Charity
Movies
Gym memberships
Vacations
Better lifestyle
Shopping
Etc.
Savings budget – 20%
This budget takes care of your future and provides you with peace of mind in case of emergencies. A proper savings plan often helps people achieve financial independence and allow them to retire early. If you plan your savings early, you may realise that in 15 years or even less, your passive income surpasses your income from your day job. Of course, it all depends on individual circumstances.
Savings and debt repayment are both important for financial stability. Savings act as a cushion to cover unexpected expenses or a loss of income, and they can also earn interest over time.
On the other hand, debt repayment helps reduce the amount of interest you pay on loans and can improve your credit score. Both savings and debt repayment are important pieces of financial planning.
Even if you have a low monthly income and a loan (or multiple loans), interest payments can add up and reduce your purchasing power. So, if you plan your living expenses, know your net income and avoid overspending, you can be smart about your budget and make a big difference in your future with little steps, even by just increasing your minimum debt repayments where possible.
Here are some examples of savings:
Emergency fund
Extra debt payments (I.e. Paying an additional amount of mortgage than a monthly minimum)
Bank savings
Mutual funds
Stock markets (I.e. Buying stocks on Revolut)
P2P investing
Individual retirement account (IRA) contributions
401k contributions
Etc.
50/30/20 Budget example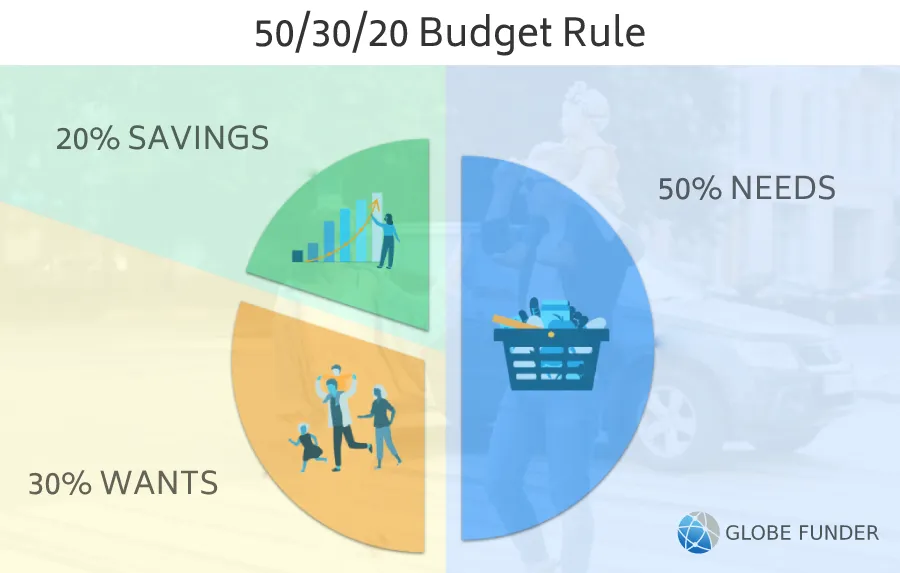 Once you spread your income in three ways, you'll feel safer, more stable and in balance with your financial decisions. Here's an example of how would look like a 50/30/20 budget for a family of 2 parents and a child:
Let's assume that both parents make around 4,000 EUR or USD a month after-tax.
The family already has an emergency fund worth 6,000 EUR or USD.
This means that the desired distribution of money would be: Needs – 2,000, Wants – 1,200 and Savings 800.
| Type | Amount | Percentage of total income |
| --- | --- | --- |
| Mortgage Payment | 380 | 9,50% |
| Utilities | 150 | 3,75% |
| Groceries | 400 | 10,00% |
| Childcare | 350 | 8,75% |
| Insurance | 90 | 2,25% |
| Transport | 250 | 6,25% |
| Accounting | 60 | 1,50% |
| Education | 120 | 3,00% |
| Healthcare | 80 | 2,00% |
| Phone & Internet | 45 | 1,13% |
| Total in the 'Needs' category: | 1,925 | 48,13% (50% max.) |
| Type | Amount | Percentage of total income |
| --- | --- | --- |
| Dining out | 160 | 4,00% |
| Entertainment & Hobbies | 170 | 4,25% |
| Gifts | 100 | 2,50% |
| Travelling | 200 | 5,00% |
| House improvements | 70 | 1,75% |
| Clothing | 160 | 4,00% |
| Memberships | 25 | 0,63% |
| Other expenses | 50 | 1,25% |
| Total in the 'Wants' category: | 935 | 23,38% (30% max.) |
| Type | Amount | Percentage of total income |
| --- | --- | --- |
| Extra mortgage payments | 250 | 6,25% |
| Stock markets | 350 | 8,75% |
| P2P investments | 200 | 5,00% |
| Total in Savings category: | 800 | 20,00% (20% max.) |
You will have your own expenses. However, some of them may overlap with yours. These are just examples of how it could look in the end. In the example above, you can see that there's some money left after all the expenses. The family spends 3,660 (Euro or Dollars) per month, and it's 91,50% of all the income. It's up to you to decide whether you want to contribute more to your savings account or maybe put it aside for a trip. The main thing is that you deduct your regular expenses and savings once you receive your payment right away.
50/30/20 Budget excel spreadsheet template
If you're done playing with numbers in our calculator above and want to make things serious, start a budget with the 50-20-30 rule in the excel template below. Feel free to edit as you wish and save it for personal use. Both 50/30/20 budget excel templates have the same features and offer a more in-depth analysis of your expense categories. These excel templates will help you understand your daily spending and see an excel budget spreadsheet with percentages. Have fun!
50/30/20 Budget Template in PDF
If you prefer to plan your budget on paper, you can download the 50 30 20 budget template in the pdf format below:
Most popular budget apps
Most popular budget apps If you'd like to automate your budgeting and take it to the next level, some widely-known apps could help you with that. Make the budgeting process quicker and easier. These apps will help you to divide your income, allocate your expenses to categories of your preferences and monitor your spending at any time.
NerdWallet – offers a complete overview of your income, bills and transactions in one place.
PocketSmith – is a personal finance app that helps to monitor your budget and track your expenses.
Quick tips on budgeting
Try to allocate each spending category to separate accounts to make it easier to keep track of your funds.
If you don't have an emergency fund, make sure to create one. A good rule of thumb is that it should cover at least three months of your needs. If it's less than that or you had an emergency, top up the emergency fund before turning back on investments or other savings.
Use the 50/30/20 budget calculator on all of your income, i.e. when you sell some of your old stuff or get a bonus at work. Save the tool as a bookmark so that you can easily access it when you receive your next payment and you need to budget it.
After some time, you'll start seeing patterns in your finances and where to save on costs.
Why is it crucial to create a budget plan?
Without a budget plan, staying on top of your finances and tracking your expenses is tough. It is often difficult to decide if your next purchase is a good or bad idea. With a proper finance plan, you'll have an easy system in place to make educated financial decisions. With the 50/30/20 rule budget you prepare yourself for unexpected emergencies, take care of your retirement and all in all, it's fun to watch how your money works for you.
What to do if my income is not high enough to defer 20%?
If you find yourself in a situation where you can't afford to put off 20% of your income, try to adjust the model to a smaller percentage in the beginning. I.e. At least 5%. And try to look at this model as a goal you need to achieve. Once you achieve it, try to stick to it as long as possible.
I'm a freelancer or businessman, I don't make an equal income every month. What to do?
Perfect, it means that you may have months where your income is higher than you need and vice versa. Just use this calculator for each payment you receive and stick to the model if you can.
What is the 50-30-20 budget?
The 50/30/20 budget rule was introduced in 2005 by American senator Elizabeth Warren. Many households and individuals nowadays use the 50-30-20 budget rule to divide their monthly income into multiple parts. These categories are Needs, Wants and Savings. This rule helps to maintain a healthy and balanced discipline in personal finances.
How to budget your money with the 50-20-30 rule?
In short, spread your after-tax income into 3 main categories, Needs – (i.e. Mortgage, rent, insurance, health, groceries etc.), Wants – (i.e. Clothes, entertainment, house improvements, travelling, etc.) and Savings – (i.e. Investments in stocks, extra mortgage payments, etc.).