Revolut is a popular choice among beginner stock investors but is Revolut suitable for stock trading? Is it possible to buy stocks without paying fees, and what is the custody fee on my account when buying and holding stocks on Revolut? All of this and more, you'll find out in this review.
We'll look at how to buy stocks on Revolut, whether it's safe to buy them on Revolut and other essential aspects. When talking about Revolut stocks, while we still prefer DEGIRO, occasionally, we come back to Revolut to see if we could potentially replace our stock trading account. Let's find out more about Revolut stocks!
Revolut stock trading review
When the stock trading feature launched on Revolut, it was buggy, and there were not that many companies' shares to buy. The app works seamlessly now and provides an excellent user experience. If the company you want to buy shares in isn't listed yet, don't worry – more are added monthly.
The stock list is still not as impressive as, i.e. nextmarkets, but hopefully, it'll get there one day. The good news is that even new IPOs show up quickly, and you most likely won't miss the party when your favourite company goes public.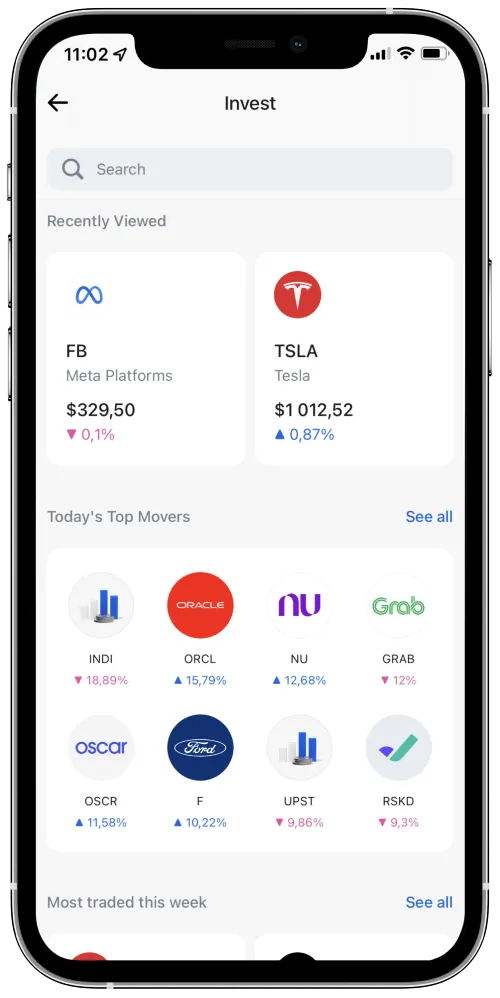 Revolut has proven to be a reliable and easy app for European and UK investors (and not only) to buy stocks from the US stock exchange. However, it's highly likely not the main reason people chose the app, and it's certainly not the best stock trading app in Europe yet. Revolut trading Ltd. stopped supporting European traders after the BREXIT due to regulatory limits. They are slowly starting to get back on track with their Lithuanian banking licence, but that doesn't include stock trading. Hence, we mentioned nextmarkets as a regulated alternative above.
Some downsides include missing many companies that may be hot in the market, trading limits, the number of stocks you can buy, market limitations, and some app bugs here and there. But to be honest, lately, the app seems to be working without technical glitches. It is impressive how quickly Revolut entered the stock trading market and developed a relatively stable platform.
Revolut trading limits
Revolut monitors your trading activities and must always comply with Pattern Day Trading rules that restrict you to day-trade more than three times in 5 business days. Depending on your account type, you may have 1, 3, 5 or unlimited commission-free monthly trades available.
You can buy stocks at a minimum of 1 USD and up to 10,000 USD in one order or up to 500 company shares. You'll need to place another transaction order if you need to buy or sell more.
You are limited to the U.S. stock market only, and there are no options to invest in other markets. While we see some improvements in other trading apps regarding after-hours trading, Revolut is also behind its competitors in this sense.
Revolut stock trading fees – Is it commission-free?
Even though the app is said to be a commission-free trading app, there are some fees you'll need to pay even on Revolut. Some of these fees are not directly related to the Revolut app but are fees imposed on US stock trading by regulators. These are the fees that you'll need to pay if you trade stocks on Revolut:
Custody fees
0.01% a month of the market value of your assets held by the Third Party Broker in your account. This amount is charged from your investment account's available balance.
Exchange fees
The trading account is in USD, so unless you hold your funds in USD on your Revolut account, you'll need to exchange funds.
Trading Activity Fee
$0.000130 per share with a minimum charge of $0.01 and a maximum charge of $6.49.
Revolut commission-free trades per account type
Standard (€0.00/month) – 1 trade a month
Plus (€2.99/month) – 3 trades a month
Premium (€7.99/month) – 5 trades a month
Metal (€13.99/month) – 10 trades a month
Fees on Revolut trading.
Is Revolut stock trading cheap? It is, but if you want to trade more often and avoid fees, you'll need to look for another broker. Today, stock trading is so cheap for most brokers that paying a monthly subscription only to get more commission-free trades is not something most traders consider, mainly because there are so many alternatives without such limits. Some of the alternatives are DEGIRO or nextmarkets, which were created for stock trading specifically.
Your capital is at risk.
Is Revolut safe for stock trading?
Changes related to BREXIT forced Revolut trading to stop supporting traders outside the UK. Revolut Trading Ltd. is regulated by the FCA (Financial Conduct Authority), and it covers only citizens from the UK. If you're not a UK citizen, your investments in Revolut are no longer protected by the EU deposit protection scheme. Here's the Revolut announcement: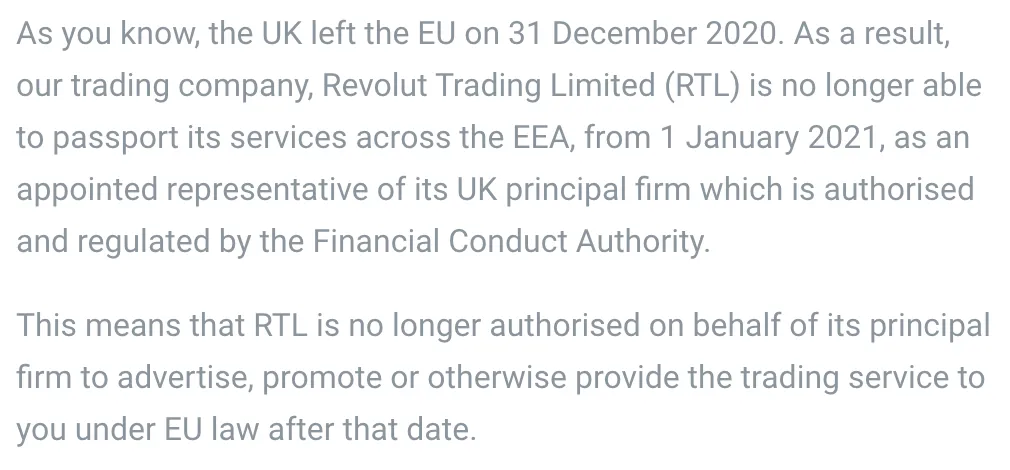 So keep this in mind if you're not from the UK and want to use Revolut for stock trading. You may still trade stocks on Revolut at your own risk, but don't be surprised if the Revolut support team doesn't help you when you get in touch with them. We recommend evaluating how secure Revolut is before depositing large amounts.
You can check the link below if you prefer to trade stocks with a broker regulated in the European Union.
Your capital is at risk.
Investing with the Revolut app
Investors can invest in NYSE (New York Stock Exchange) stocks and NASDAQ. It has more than 2,100 stocks available on the app. Currently, there are no European stocks on the app or ETFs. However, the company keeps saying that it's in their near plans to add these to the app.
The app is user-friendly and intuitive. It has valuable features where you can follow the latest news, get essential stock data, check top movers and even evaluate your trading results.
How to buy stocks on Revolut?
If you are in one of the countries where Revolut trading is operating and meet the age requirements, you can buy stocks in the app in almost no time. Trading with Revolut is no rocket science, but how do you buy shares on Revolut? Before you do that, make sure that you familiarize yourself with the process and risks involved. Never invest money you cannot afford to lose. Also, you may want to consider a better Revolut trading alternative if you're from the EU.
It takes seven simple steps to buy your first company share on Revolut. It's also possible to buy fractional shares, which means that if the company share you want to buy is worth $1,000 per share and you can only afford to invest $500, you can buy half of the company share and still participate with your investment and gain profit if the company stock price increases. Now, let's look at how you can buy stocks on Revolut.
What do you need before you can buy stocks on Revolut?
There are certain things you need to take care of before you get to buy stocks on Revolut. If you've completed the preparation steps listed below, you can skip to the buying bit.
1. Download and install the Revolut app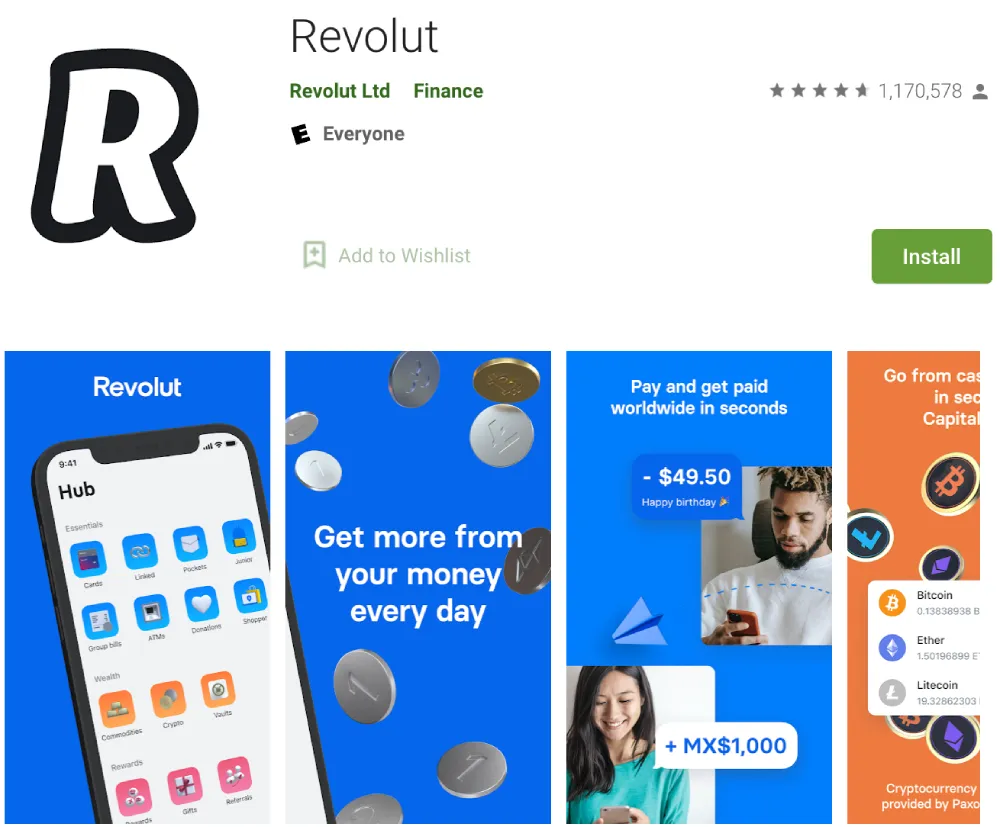 First, you need to download and install the Revolut app to access trading features. Depending on the mobile device you are using, below are the links where you can download the app:
2. Create & verify your Revolut account
After you install the Revolut app on your mobile device, open the app and create your account. You'll need to verify your identity as it's required by the international KYC (Know your customer) and AML (Anti-money laundering) procedures. It's a common process for financial institutions.
3. Apply for a Revolut trading account
Find the Revolut Stocks tab in the app and apply for a trading account. You'll need to go through multiple documents and e-sign them before you can get access to the trading account.
4. Add funds to your Revolut account
Add funds to your newly created account. You can top up the account by wire transfer, credit card or another method.
Buying stocks on Revolut – Step by Step
Timed needed: 2 minutes.
Investing with Revolut is simple, and you can buy stocks in almost no time. If you don't have an account with Revolut, first, you need to complete a few steps before buying shares. These are related to the application download, account verification and account funding. Once completed, the steps to buy company shares are as follows:
Go to the 'Stocks' section in the app.

Open the Revolut app and find the 'Stocks' tab to begin the investing process.


Add money to your trading account

Click on '+Add money' and fund your Revolut trading account with the amount you want to invest.


Click on the 'Invest' button

In the 'Stocks' tab, click on the 'Invest' button to get to the company list available for trading.


Pick a company stock you want to buy

Find a company from the available stocks list you're interested in and click on the 'Buy' button.


Enter the amount you want to invest

Enter the number of stocks you want to buy or the amount you want to invest. You can also pick a market order type.


Review and confirm your transaction order

Make sure everything is correct with your investment order and if so – confirm it.


Congratulations, that's it!

You have just bought your first stocks on Revolut trading. You can see the number of stocks you own and the invested amount in your 'Stocks' section.

Congratulations, you have just bought your first shares on Revolut. Good luck with trading, and remember that trading comes with certain risks. Don't invest funds you cannot afford to lose.
How to withdraw money from Revolut stocks – Withdrawal time
If you want to withdraw funds from the Revolut trading account, you can withdraw the uninvested amount at any time. If you have just sold any stocks in the app, you'll have to wait until the sale order settles and the money becomes available. It usually takes about two days.
Revolut ETF trading
Before Revolut introduced stock trading in the app, they mentioned that the goal is to make ETF trading available. However, they haven't launched it yet. The company grows and adds new features. We believe it won't take long to get to this point because we have noticed a similar growth with a well-known Robinhood app in the US.
Some tips to remember when trading with Revolut
It's not possible to buy stocks out of stock market working hours. However, there's an option to submit a share purchase order before the market opens.
Try to operate with your funds within working days to avoid overpriced forex rates.
When a company pays dividends to its investors, they are credited to your account the same day.
Changes associated with BREXIT strip the benefit of any EU regulatory protections or investor compensation schemes by trading with Revolut Trading ltd.
How Can I close the Revolut trading account?
To close your trading account, you must ensure you no longer own any company shares. Withdraw all the funds from your Revolut 'Stocks' account and click on three dots where is the 'Close trading account' button.
How to make money with Revolut trading?
You can make money from Revolut trading by buying and selling publicly traded company shares. To make money, you need to sell them at a higher price than you have bought. Please note – your capital is at risk, and there's no guarantee that you will earn from your trades. You may also lose on your trades when company shares decrease in value.
How to buy stocks on Revolut?
To buy stocks on Revolut, you need to open a trading account on the Revolut app. Once you complete your verification, you can access the list of companies available. Pick a company you want to buy, enter the number of stocks or value, and confirm your order.
What are Revolut trading limits?
There are selling and buying limits on the app. You can buy stocks at a minimum of 1 USD and up to 10,000 USD in one order or up to 500 company shares. If you need to buy or sell stocks for a higher value or amount, you'll need to place multiple orders to divide the order into smaller pieces.
Does Revolut offer after-hours trading?
No, but you can place a trading order before or after the market closes. The order will be executed once the market opens again.
Is Revolut trading regulated?
Revolut Trading Ltd. is an appointed representative of Resolution Compliance Ltd, which is regulated by the Financial Conduct Authority (FCA) in the UK. Revolut Trading Ltd. is not regulated in Europe.
Does Revolut have a desktop app for trading?
Yes. Revolut has a desktop app, and you can access it via a web browser. You don't need to download an additional app to access your Revolut account and trade stocks online. However, some features are available only on the mobile app.
Is Revolut stock trading available in Singapore?
Revolut has obtained a Capital Markets Services licence from the Monetary Authority of Singapore (MAS) and is expected to launch a stock trading feature in Singapore soon. However, it's not available yet.