Are you buying or trading cryptocurrencies on Revolut? Did you know about the high Revolut crypto fees that can eat up your profit? Don't worry. I'll show you how to reduce them and when it's worth upgrading your account type to save on crypto fees.
In the crypto market, fees are not the only thing to worry about, and you should also evaluate platform safety, limits, convenience, problems, features and other essential aspects.
In this review, you'll find everything you need to know if you buy cryptocurrencies on Revolut.
Revolut Cryptocurrency Review
Usability

Crypto Fees

Safety

Features

Support
Is Revolut crypto for you?
Revolut gives a bit of a taste of the crypto world and is probably a better choice for beginners who don't want to deal with the technicalities of cryptocurrencies. The app has many limits, and crypto fees are significantly higher than usual.
If you're like most crypto investors and trade cryptocurrencies for profit, then Revolut crypto is probably not for you. If you just want to play around and start with as low as £1, you can give it a try.
*Cryptoasset investing is unregulated in some EU countries and the UK. No consumer protection. Your capital is at risk.
Revolut crypto – Pros & Cons
Revolut is not the best place to buy cryptocurrencies, but it has some advantages that motivate users to stay within their app to manage all things money in one place, including cryptos.
Before we dive into details, here's a quick summary of the app's main pros and cons from the cryptocurrency perspective.
Pros
Beginner-friendly interface.
The app covers all of the most popular cryptocurrencies.
No need to download another app to get access to cryptocurrencies.
'Recurring buys' feature to even out the average price in the long term.
Simple analytics and basic cryptocurrency data.
Cons
High crypto fees.
Revolut is just a middleman that buys cryptocurrencies for you on an exchange.
Not possible to transfer cryptocurrencies to an external wallet (In most countries).
A limited number of cryptocurrencies.
Various trading and exchange limits.
Revolut crypto fees explained
When paying fees to Revolut for your crypto asset activities, it can get very expensive, especially if you trade cryptocurrencies regularly. And there's a simple explanation why.
As mentioned in the Cryptocurrency Terms on Revolut, when you buy cryptocurrencies on the app, Revolut will go to their partner exchange (i.e. Coinbase or Bitstamp) to exchange cryptocurrencies for you.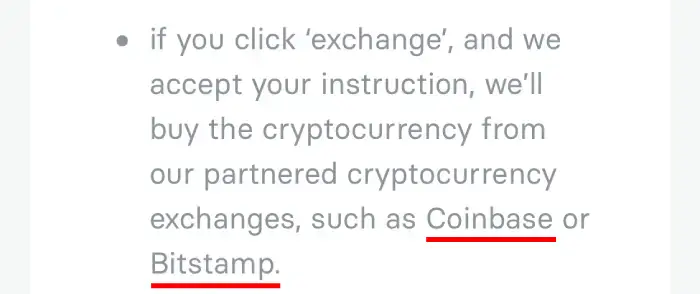 You could exchange cryptocurrencies on these platforms to avoid another middleman (Revolut). However, if we dig even deeper and check cryptocurrency fees on these exchanges, they are still more expensive than on eToro.
Cryptoasset investing is unregulated in some EU countries and the UK. No consumer protection. Your capital is at risk.
In short, such a structure adds additional costs and safety concerns if anything unexpected happens to Revolut. Depending on the amount you want to exchange, you may pay multiple fees per transaction:
An exchange fee
A fair usage fee
A Bid-Ask spread
Crypto exchange fees based on the account type
| Item | Standard | Plus | Premium | Metal |
| --- | --- | --- | --- | --- |
| Monthly subscription fee | £0,00 | £2,99 | £7,99 | £13,99 |
| Exchange limit per month (Without an additional fee) | £1,000 | £1,000 | – | – |
| An additional fee for exceeding the monthly limit | 0,5% | 0,5% | – | – |
| Cryptocurrencies buying/selling fees | 1,99%* | 1,99%* | 1,5% | 1,5% |
Revolut crypto fees based on the account type. Source: Revolut.com
*1.99% or EUR 0.99, whichever is higher.
In short, if you buy and sell cryptocurrencies on Revolut worth at least £1,426 (or EUR) every month, it's worth upgrading your account type to Premium based on the fee amount only. It's when the Revolut cryptocurrency commission reaches the 8 EUR price tag that comes only from the difference between the 1,99% and 1,5% exchange fee.
It makes no difference which cryptocurrency you buy – Bitcoin, Ethereum, Cardano, or any other. The fees are consistent for all cryptocurrencies.
With the standard account, you'll pay a 1,99% fee when buying and the same amount when selling. It's almost a 4% fee for one transaction or a 5% fee if you go over your monthly exchange allowance. It gets worse if you buy less than £100 worth of crypto because of the minimum fee of £0.99.
This is crazy compared to other, more affordable options outside of Revolut.
Fair usage fee
The amounts across all exchanges in the app are added up to calculate crypto buying and selling fees. I.e. For "Standard" and "Plus" accounts, you are allowed to exchange up to £1,000 (or EUR) worth of assets per month without an additional fee. If you exceed the amount, you'll need to pay an additional 0.5% fee for the amount that exceeds the limit.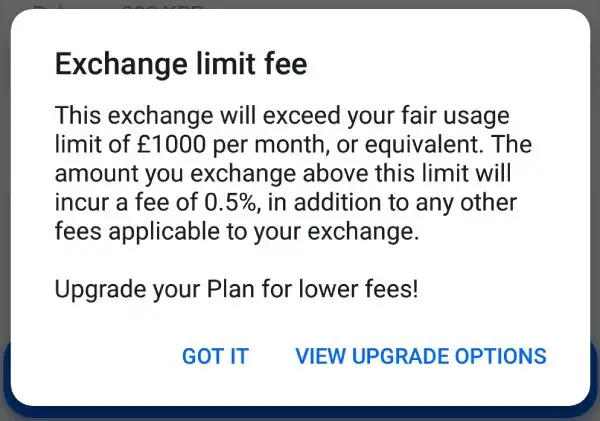 Compare crypto fees on different platforms
Here's a quick comparison between Revolut and other popular crypto trading platforms. We compared three platforms and calculated how much it would cost to buy £2,000 worth of Bitcoin.
*Cryptoasset investing is unregulated in some EU countries and the UK. No consumer protection. Your capital is at risk.
You can cut your exchange fees by more than half simply by using eToro rather than Revolut. Or reduce your crypto fees by around 20% when buying crypto on PayPal (the cryptocurrency feature is available only in the UK).
Can I transfer crypto from Revolut to a wallet?
Sending crypto from Revolut to a wallet gives you greater control over your crypto assets and extra protection, especially if you keep them in a cold wallet like Ledger or Trezor. However, Revolut crypto transfer to a wallet is not available to all users yet. Withdrawal availability depends on two main conditions: your location and the type of paid plan you have.
Let's assume you're in a country where crypto withdrawals are available (i.e. the UK). You should be aware of some fees and limits when dealing with cryptocurrency withdrawals on the app.
Crypto withdrawal fees – when withdrawing cryptocurrencies from the Revolut crypto, you pay a "Network fee" and a "Service fee". You can see an estimate of the total fees on the confirmation page before the withdrawal.
Crypto withdrawal limits – currently, there are limits to the total amount you can withdraw from Revolut crypto. A daily limit is 500 GBP, and a monthly limit is 1,000 GBP.
Withdraw crypto from Revolut – send crypto to a wallet
Revolut started to offer withdrawals to an external crypto wallet (like Ledger or Trezor). However, it's not available in most countries yet. When you withdraw your cryptocurrencies to an external wallet, you are eligible for an additional fee – a 'network fee'. It's a fee that isn't controlled by Revolut but is required to withdraw funds. The 'network fee' is paid to cryptocurrency miners for a transaction. The fee may vary slightly from an estimate you see in the app when withdrawing cryptos to a wallet.
The minimum amount of crypto withdrawal on Revolut is £10 per withdrawal, and currently, you may withdraw up to £500 a day and £1000 a month's worth of cryptos.
Is Revolut good for crypto?
In our opinion, Revolut is not a good choice for crypto due to the high fees, lack of the withdrawal feature (in most countries) and small crypto asset list. We believe a 1.99% fee is way too much to buy cryptocurrencies (and the same 1.99% fee when selling). So in total for one trade – 4% at least. The amount you pay in fees can be significantly reduced by changing the platform to eToro.
There's an option to upgrade an account type to Premium or Metal and pay less in fees, but even then, it's still more expensive, as we saw above.
Cryptoasset investing is unregulated in some EU countries and the UK. No consumer protection. Your capital is at risk.
Revolut cryptocurrency limits on the app
When buying cryptocurrencies on Revolut, you should bear in mind that there are certain limits:
No crypto staking.
Significantly higher fees than on other platforms (be it a broker or an exchange).
Limits on sending crypto outside the app or to an external wallet (in most countries).
A limited list of crypto coins.
Crypto withdrawal limits – up to £500 per day and up to £1,000 per month.
With 'Standard' and 'Plus' accounts, free exchange limit (Free exchange available only up to £1,000).
How to buy crypto on Revolut?
In this example, we'll show you how to buy cryptocurrency on Revolut. As an example, we'll look at the Bitcoin buying process.
Time required: 2 minutes.
If you have already downloaded the Revolut app and verified your account, it takes only a few simple steps to buy your first Bitcoin on the app:
Go to the crypto section in the app

The cryptocurrencies section on Revolut works like an exchange. To begin, click on the Invest button.


Pick a Cryptocurrency

Once in the crypto section, pick a cryptocurrency you want to buy. In our example, we'll buy Bitcoin.


Find Bitcoin (BTC) in the cryptocurrency list

When you've selected Bitcoin, click on the buy button.


Specify the amount

Enter the amount you would like to exchange for the crypto of your choice. You can also estimate the fee amount that will show up. You can buy fractions of the coin as well.


Confirm your order

If you have completed the previous steps, it's time to confirm your order and become an owner of Bitcoin.


Enjoy, you've just bought a cryptocurrency on Revolut

That's it! These are all the steps to buying your first Bitcoin on Revolut.


Revolut crypto fees

As you can see in the example below, you'll see an instant loss right after you exchange funds for cryptocurrencies on Revolut. It's because of the fees associated with the exchange.

Is Revolut safe for crypto?
Firstly, cryptocurrencies carry a high level of risk, and they are not regulated in most countries. When it comes to storing cryptocurrencies, even though Revolut is a trusted and considered a safe platform, storing cryptocurrencies on any platform or exchange is not safe.
Revolut has put a lot of measures in place to ensure the safety of your funds, and they constantly update their security protocols to ensure that your money is as safe as possible.
The safest method to store your cryptocurrencies is on an external cold wallet like Ledger or Trezor.
Be aware that when buying cryptocurrencies on Revolut, they will not be protected by the FSCS (Financial Services Compensation Scheme). All cryptocurrencies you have bought via Revolut will not be in your name and will be held in a 'pool' with others. Always keep your app up to date to avoid potential safety issues.
Revolut cryptocurrencies FAQ
Why Revolut is terrible for cryptocurrencies?
Revolut is considered an expensive choice for cryptocurrency trading due to high commissions. It's possible to reduce the commission by upgrading the account to Premium or Metal.
Is it possible to send crypto to Revolut?
It's not possible to send cryptocurrencies from outside the app. It's possible to send cryptocurrencies between the users of Revolut.
What are crypto limits on Revolut?
You can trade (exchange) up to 15,000 USD worth of cryptos per order on Revolut, and you are allowed to exchange up to 30 times per day.
Does Revolut offer cryptocurrency staking?
No, Revolut does not offer cryptocurrency staking. If you want to stake cryptocurrencies, you may have a look at eToro.
What crypto exchange does Revolut use?
According to Revolut cryptocurrency terms, when you exchange fiat money to cryptocurrencies, Revolut buys them on partner exchanges like Coinbase or Bitstamp.