Cryptocurrency trading has become so popular that many stock traders started to switch their focus to crypto trading. Large fluctuations in cryptocurrency prices provide traders with more opportunities to gain profit, however, Revolut crypto fees aren't cheap. Cryptocurrency trading can be very profitable, but it involves a much higher risk compared to the stock market. Since Revolut offers lower fees only with a subscription plan and there's still no crypto staking available, we still prefer Etoro for crypto trading. In this Revolut Crypto review, you will see an easy example of how to buy Bitcoin on Revolut and when it is worth upgrading your account to save on Revolut crypto fees. However, not everything's great so we'll discuss some downsides as well, and look at some alternatives.
Revolut crypto overview
Revolut launched cryptocurrencies in early 2018. In the beginning, there were only very few coins that users were able to buy. Now the list has expanded, and Revolut keeps adding new cryptocurrencies every now and then. Check a list of available cryptocurrencies on Revolut.
Revolut gives a bit of a taste of the crypto world, however, since there are limited options that you can do with your crypto assets in the app, Revolut can be considered more as an agent that sells or buys crypto for you.
Revolut crypto fees
When it comes to paying fees to Revolut for your crypto asset activities, it can get expensive. All of the amounts across all types of exchanges in the app are added together to calculate fees for crypto buying and selling. I.e. For "Standard" and "Plus" accounts, you are allowed to exchange up to 1,000 (EUR or GBP) worth of assets per month without an additional fee. If you exceed the amount, you'll need to pay an additional 0.5% fee for the amount that exceeds the limit.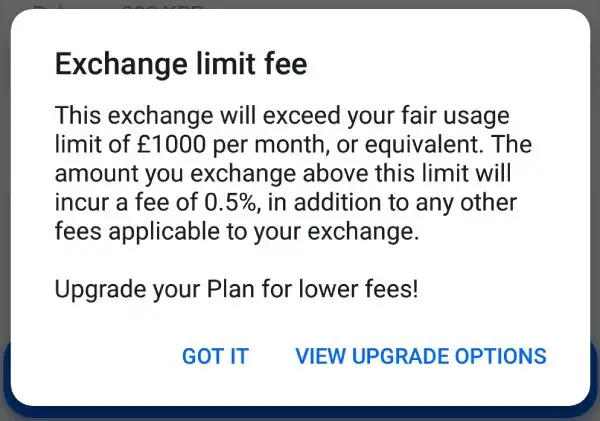 Revolut cryptocurrency exchange fees based on the account type
| Item | Standard | Plus | Premium | Metal |
| --- | --- | --- | --- | --- |
| Monthly subscription fee | €0,00 | €2,99 | €7,99 | €13,99 |
| Exchange limit per month (Without an additional fee) | €1,000 | €1,000 | – | – |
| An additional fee for exceeding the monthly limit | 0,5% | 0,5% | – | – |
| Cryptocurrencies buying/selling fees | 2,5% | 2,5% | 1,5% | 1,5% |
Revolut crypto fees based on the account type. Source: Revolut.com
In short, if you buy and sell cryptocurrencies on Revolut worth at least 800 EUR of GBP every month then based on the fee amount only, it is worth upgrading your account type to Premium. It's when the Revolut cryptocurrency commission reaches the 8 EUR price tag that comes only from the difference between the 2,5% and 1,5% exchange fee.
It doesn't matter which coin you buy – Bitcoin, Ethereum, Cardano etc. Fees are the same for all coins. If we assume that you don't have a Premium or Metal account, just to buy a cryptocurrency on Revolut, you will pay a 2,5% commission. And the same goes for Revolut crypto selling fees – you would pay a 2,5% commission for selling cryptocurrencies. In total, it's a 5% commission just on one deal. In our opinion, that's crazy, and there are cheaper options out there.
Revolut crypto alternatives
If you're interested in crypto trading or the usage of any digital currency, Revolut features and options may not suit your needs. It is also expensive to trade crypto assets on Revolut and moving to a different platform could be a better option. Below are some of Revolut crypto alternatives based on user goals.
Etoro for crypto trading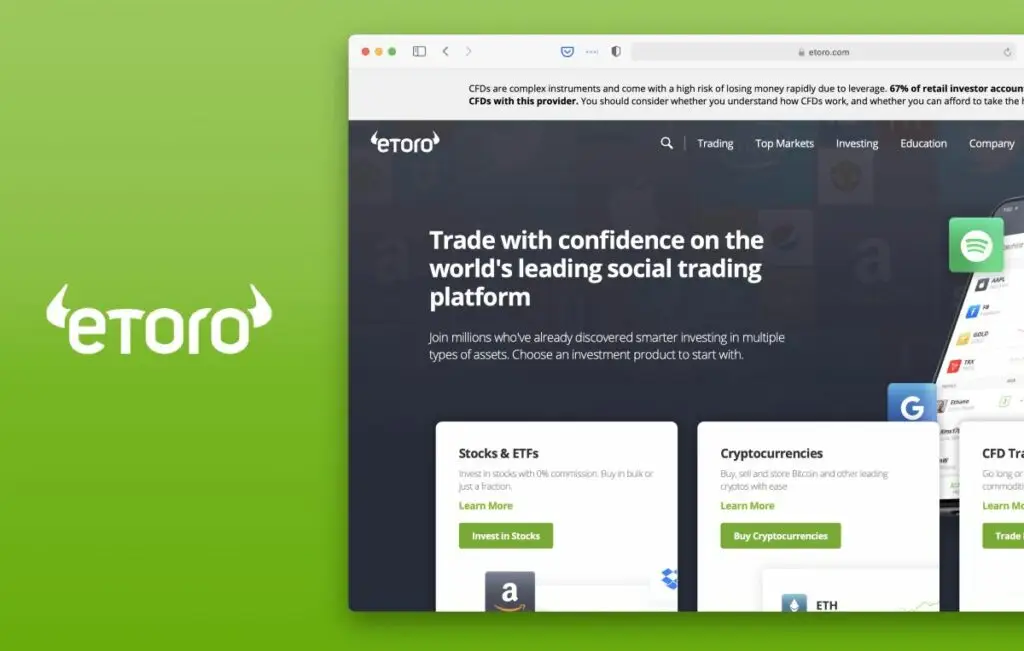 One of the most widely used platforms to trade cryptocurrencies is Etoro. It has been around for years and it began as a social trading platform. Etoro is a global multi-asset trading platform and is a regulated trading platform in the U.S., the U.K., Europe, Australia and Gibraltar. With Etoro, investors can invest in stocks, currencies, ETFs, equities, commodities and cryptocurrencies. It was founded in 2007 and has grown tremendously in the last few years. With a user base of 20 million, it is the leading social trading platform in the world. In 2020 alone, Etoro has managed to attract 5 million new users. Based on the results in January 2021, when the company attracted 1,2 million users, Etoro is on track to add even more in 2021.
The platform has grown into a multi-asset trading platform with a simple and easy to understand interface, millions of users with whom you can interact within the forum & discuss your trading ideas, copy-trade other traders and more.
Cryptoassets are a highly volatile unregulated investment product. No EU investor protection. Your capital is at risk.
Coinbase for crypto buying and selling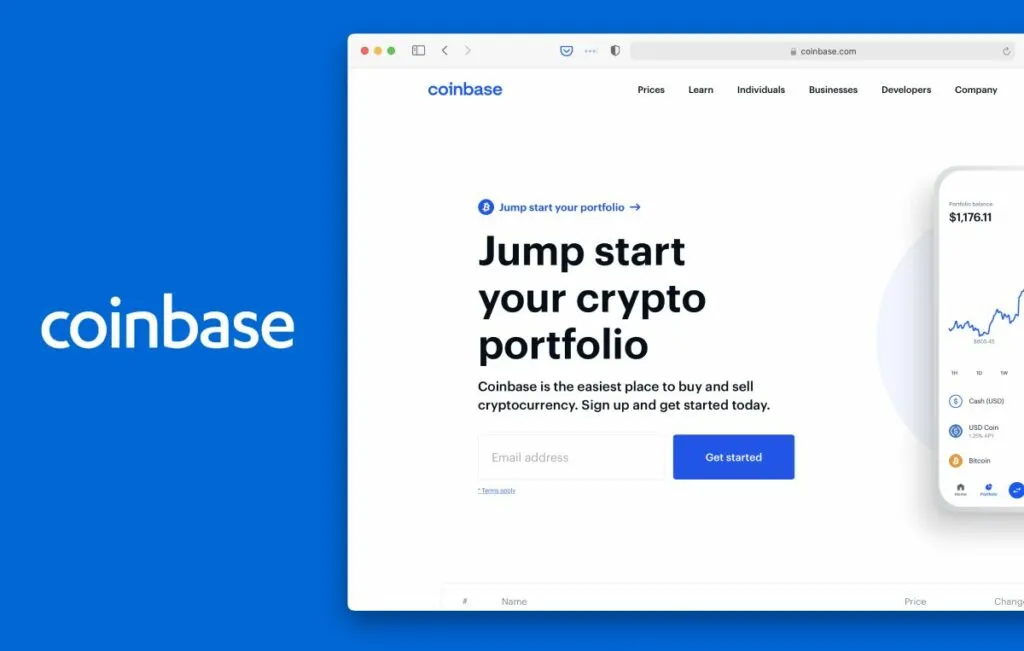 Coinbase is a beginner-friendly exchange platform for cryptocurrencies buyers and sellers. It was launched in 2012 and it quickly took the leading positions in the crypto market. The company launched their own IPO in 2021 and today is the best-known source for crypto investors.
How to buy cryptocurrencies on Revolut?
In this example, we'll show you how to buy cryptocurrency with Revolut. As an example, we'll look at Bitcoin buying process. If you have already downloaded the Revolut app and verified your account, it takes only a few simple steps to buy your first Bitcoin on Revolut. Also, before you buy cryptocurrencies, you can check the crypto market sentiment to see if it's a good time to buy.
Time required: 2 minutes.
So, if you've decided to buy some crypto on Revolut, here are the steps:
Go to the crypto section in the app

The cryptocurrencies section on Revolut works like an exchange. To begin, click on the Invest button.


Pick a cryptocurrency

Once you're in the crypto section, pick a cryptocurrency you want to buy. In our example, we'll buy Bitcoin.


Find Bitcoin (BTC) in the cryptocurrency list

When you've selected Bitcoin, click on the buy button.


Specify the amount

Enter the amount you would like to exchange for the crypto of your choice. You can also estimate the fee amount that will show up. You can buy fractions of the coin as well.


Confirm your order

If you have completed the previous steps, it's time to confirm your order and become an owner of Bitcoin.


Enjoy, you've just bought a cryptocurrency on Revolut

That's it! These are all the steps to buy your first Bitcoin on Revolut.


Revolut crypto fees

As you can see in the example below, you'll see an instant loss right after you exchange funds to cryptocurrencies on Revolut. It's because of the fees associated with the exchange.

The process to buy other cryptocurrencies on Revolut is the same. Good luck!
Revolut cryptocurrency advantages
If you don't want to be bothered with all the crypto hype outside the Revolut app, it may be the best place for you to gain from the price fluctuations. There are some more reasons why people choose Revolut for crypto trading.
Very easy and simple to use interface to buy crypto with Revolut.
You can buy the most popular cryptos on the app.
Avoid potential scams that are less popular among crypto traders.
You don't need to create another account on a different platform to buy cryptos.
You can set up the app to auto-buy a cryptocurrency of your choice. It's called – Recurring buy. It is a well-known method for investments on the stock market to even out daily market fluctuations and to gain from the asset price increase in the long run.
Revolut cryptocurrency disadvantages
It's easy to get excited about cryptocurrencies if your only experience comes from Revolut. If you haven't tried any crypto exchanges or wallets yet, you may think that Revolut is good enough for cryptocurrency acquisition. The experience that you get in the app differs from the one you get with crypto wallets or exchanges. There's no doubt that adding cryptos to the app was a great success for Revolut. In general, using Revolut for crypto trading comes with some downsides as well, and it seems that there are more disadvantages than advantages but let's go through them together so that you could understand what are they.
Revolut buys cryptos for you as an agent or broker.
Transfer of your crypto assets to any platform or wallet outside the app may be impossible or difficult.
Buying and selling any cryptocurrencies are very expensive in comparison to other alternatives. For trading purposes, Etoro may be a much cheaper option.
A limited number of cryptos available for trading.
You cannot use cryptocurrencies to pay for goods or services.
Revolut crypto regulation
Firstly, cryptocurrencies carry a high level of risk, and they are not regulated in many countries. However, the cryptocurrency regulation differs from country to country. I.e. In the UK, the cryptocurrency market is regulated by the FCA (Financial Conduct Authority) for AML (Anti-money laundering) and counter-terror financing. On the flip-side, in Lithuania, they are not regulated by the Bank of Lithuania.
Revolut cryptocurrencies FAQ
Is it possible to send crypto to Revolut?
It's not possible to send cryptocurrencies from outside the app. It's possible to send cryptocurrencies between the users of Revolut.
How to transfer crypto from Revolut to an external wallet?
No, it's not possible to transfer or send your crypto outside the Revolut app.
What are crypto limits on Revolut?
You can trade (exchange) up to 15,000 USD worth of cryptos on Revolut per order and you are allowed to exchange up to 30 times per day.
Is Revolut good for crypto?
Revolut Crypto is an expensive choice to trade cryptocurrencies. Also, features on the platform are very limited and you may not be able to transfer your coins to another wallet or platform. Hence why many traders choose a different crypto trading alternative.
What are Revolut Bitcoin fees for buying and selling?
When buying or selling Bitcoin on Revolut, you have to pay a buying or selling fee of 2.5% for each transaction for Standard and Plus accounts and 1.5% for each transaction for Premium and Metal accounts.
Does Revolut offer cryptocurrency staking?
No. If you want to stake cryptocurrencies, you may have a look at Etoro.
Is it worth buying crypto on Revolut?
Buying crypto on Revolut is a simple process. However, there are limitations in features (i.e. Cryptocurrency staking), and it may become costly to trade cryptos on Revolut if you're not planning to hold your coins in the long term. Also, you need to bear in mind that it is not possible to transfer your coins to an external wallet. We still prefer other crypto buying alternatives when it comes to cryptocurrency buying.