Those days when cryptocurrencies were just an unknown slang used by some computer nerds are long gone. Today, it's a volatile but valuable asset to many professional and beginner investors. So, if you're just a beginner and want to start investing in cryptocurrencies but don't know how and where to begin, we'll clear that out and show you how to do it step by step.
First, you need to understand what cryptocurrencies are and how investors can make money on cryptocurrencies so that you can begin with the most suitable option for you. Let's start!
What is a cryptocurrency?
Cryptocurrency is a virtual or digital currency based on blockchain technology. It means that you can't physically touch it as you may be used to with your local currency in the form of paper or coins issued by a government (known as FIAT money).
What are cryptocurrencies used for?
Cryptocurrencies serve the same purpose to help to exchange digital currency or cryptos for goods or services. The most significant difference is that cryptocurrencies don't require any centralised institution management, i.e. banks or governments, and it doesn't require an intermediary for a transaction.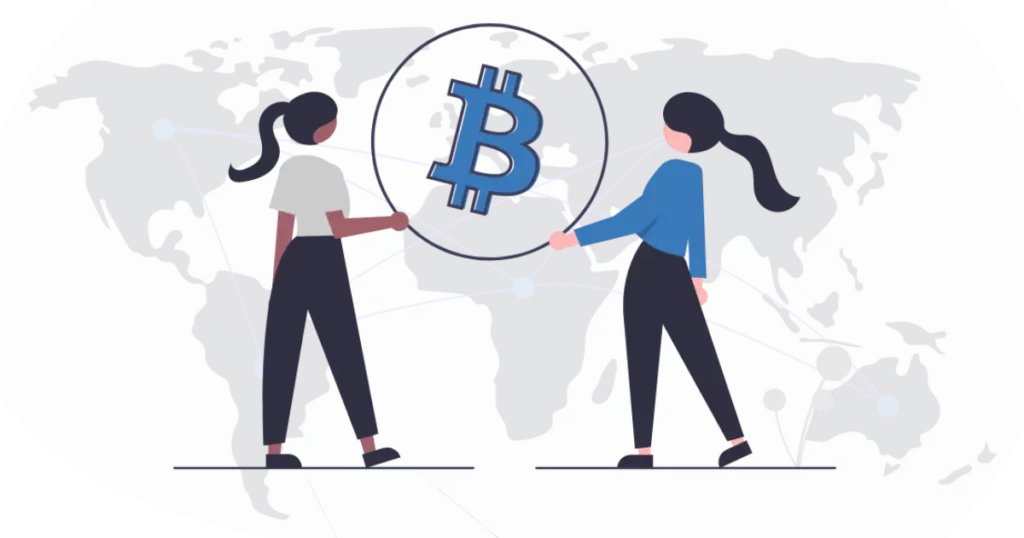 Central banks regulate the amount of money in circulation, which is a problem when the bank decides to issue more money causing inflation in the market. In contrast, cryptocurrencies don't require banks' involvement in the transaction process. Transactions are verified and stored in a database on an extensive network of computers. Many computers worldwide support the crypto network, and it's nearly impossible to intervene or hack it. These computers have the same transaction information, and none individually run the network, which is why it's a decentralised solution.
What is Bitcoin?
Because of the financial market crash in 2007-2008, developing a better financial system was essential. And even more critical – developing an independent system. So, Bitcoin was invented, and the main idea was to serve as an electronic peer-to-peer cash system without an intermediary. It was essential to replace the current financial system controlled by banks and governments to avoid a similar financial market crash in the future.
Today, there are multiple types of cryptocurrencies; however, the first and the most popular cryptocurrency is Bitcoin. With Bitcoin, the invented technology solved the double-spending problem in a decentralised way for the first time. See how to buy Bitcoin.
Avoiding a double-spending problem, where you could spend the same amount twice, was critical. It allowed to creation of a cryptocurrency and hit the market for the first time. Now, it works as an independent system without an intermediary.
How to start investing in cryptocurrency?
The rapid increase in popularity has opened many opportunities for investors to jump into the crypto space and earn from price fluctuations. Prices of cryptos are determined based on supply and demand, which is why investors who have entered the market earlier may have gained more profit today.
We believe the popularity has not reached its peak, and there are still many opportunities before it becomes mainstream.
There's more than one way to invest in cryptocurrencies; some are more speculative, some more technical. To start investing in cryptocurrency, you should pick the best investment type that suits your risk appetite.
The most popular and easiest methods to invest in cryptocurrencies are: cryptocurrency trading and investing and holding (hold). However, remember that cryptocurrency prices can also decrease in value.
Different types of cryptocurrency investing
Even though there are multiple ways to make money with cryptocurrencies, most require an actual crypto asset acquisition. Here are some of the most popular alternative cryptocurrency investment types.
Cryptocurrency mining – Blockchain technology requires a network of computers to validate and verify transactions to solve a complex mathematical puzzle and record transactions in the blockchain.
This is where miners come in with their computer power. I.e. Cryptocurrency miners set up a computer for Bitcoin mining, and in exchange, they receive a small reward in the form of Bitcoin. It's a technical process and requires specific knowledge. Best for advanced investors.
Cryptocurrency staking – Investors can earn additional income by staking crypto coins. I.e. Ethereum, Cardano and Tron – all support cryptocurrency staking. Staking is a way of earning interest by holding specific cryptocurrencies. Best for beginner to advanced investors.
Cryptocurrency dividends – It is already said in the name itself. Similarly, as in the stock market, some cryptocurrencies offer dividends to their investors, I.e. NEO. Best for beginner to professional investors.
These are the most common ways to earn from cryptocurrencies. Each requires a different set of knowledge, budget and time commitment.
Cryptocurrency trading and buying/holding are the most popular methods, so below, we will take a closer look at where and how to begin cryptocurrency trading. You can buy and hold on the same platform if you prefer.
How to invest in cryptocurrencies?
To begin investing in cryptocurrencies, you must have reached the age limit and should have sufficient savings.
Once you've determined that is the case, you can start by researching different cryptocurrencies and selecting the most profitable ones. You may focus on just one cryptocurrency or keep tabs on several at once.
Where to invest in cryptocurrencies?
To begin trading cryptocurrencies, you'll need to find a crypto trading platform or exchange that fits your needs. Also, not all exchanges accept users from every country. You should be able to determine the requirements during the account setup process.
How to choose a crypto trading platform or app?
Understanding the basic features and major differences when choosing a crypto platform is crucial. However, finding a good crypto trading platform is crucial. This guide aims to help you understand the standard features and differences between crypto trading platforms to decide which one is best for you.
One of a crypto trading platform's most important features is security. You should pay attention if the platform has
two-factor authentication,
multi-signature transactions,
and advanced encryption technology.
In addition, some platforms offer a robust user interface that makes it easy to navigate and use.
Another major factor to consider when choosing a crypto trading platform is the range of supported cryptocurrencies. Some platforms offer a wide variety of coins and tokens, while others specialize in specific cryptocurrencies.
Finally, it's essential to consider the fees charged by different platforms. Generally speaking, most platforms charge low fees for transactions; however, some may have higher fees for specific features or services.
If you are looking for a reliable crypto trading platform, research and consider these important factors. Whether you are a beginner or an experienced trader, there is a platform out there that will meet your needs.
Popular crypto trading platforms
One of the most popular choices for crypto trading today is eToro. It has a long and trusted history in the market, proving to be a reliable platform even in uncertain times. There are many features for learning, and traders can interact with each other because the platform offers a social trading feature. The best part is that beginners can test the platform and simulate the trading process and features in the practice account, which is accessible to all eToro users.
Cryptoasset investing is highly volatile and unregulated in some EU countries. No consumer protection. Tax on profits may apply.
How to buy cryptocurrencies – Step-by-Step
There are many different types of cryptocurrencies, but the most popular one is Bitcoin. So in this example, we'll focus on Bitcoin.
Which cryptocurrencies to buy?
Well, there are several cryptocurrencies out there, but predicting which one is the best for investing is not an easy task.
Penny cryptocurrencies – These are the smaller cryptocurrencies that typically have a very low market cap and price. While these may not seem like suitable investments at first, they can sometimes offer significant returns if the coin can gain more popularity or if another cryptocurrency increases in value.
New cryptocurrencies – Another option is to invest in newer cryptocurrencies, which may not have much value yet but could potentially deliver high returns as they grow in popularity.
Most popular cryptocurrencies – The most popular cryptocurrencies, such as Bitcoin and Ethereum, have typically been great choices for investors due to their high market caps and ongoing growth.
Most searched cryptocurrencies – Finally, it's sometimes valuable to look at the cryptocurrencies that are getting the most searches online. This can help you identify trends and determine which coins may be worth investing in for the future.
In summary, there are several factors to consider when choosing a cryptocurrency to invest in, including whether it's a newer or more established coin and its potential growth potential and popularity. With careful research and consideration, you can find the right cryptocurrency.
Should you invest in cryptocurrencies?
Often a financial analyst will say that the stock market is fundamentally sound and thus worth investing in. However, cryptocurrencies may follow a different trend than traditional stocks since they are decentralized and unregulated by any central authority.
As of now, there are thousands of different cryptocurrencies, but not all of them are worth investing in. Before investing your own money, you consider the high risk that comes with cryptocurrency trading. The crypto market is highly volatile, and so are the prices of cryptocurrencies.
If you want to know if it's the right time to invest in the cryptocurrency market, you can learn more about the cryptocurrency fear and greed index, which is a great tool for understanding the crypto market sentiment.
Conclusion
As you can see, investing in cryptocurrency is not rocket science. It's quite simple and accessible to everyone. The main task when investing is always to learn more and research the market to find good investment opportunities. Most people are often waiting for the right time to invest. Still, it's impossible to predict the lows and highs of the market, so investing in smaller amounts consistently can often yield better results and average out the cryptocurrency price to gain profit in the long term.
A rule of thumb is never to invest the money you cannot afford to lose.