Cryptocurrency trading has become the new mainstream in asset investing online. Due to the increasing popularity of Bitcoin, Ethereum, Ripple and other cryptocurrencies, many people are still looking for ways to get involved in the crypto market, and that's where eToro can help.
eToro is a social crypto trading and investing platform that also allows users to buy and sell cryptocurrencies. So, in this review, we'll focus on the crypto side only. How to buy crypto on the platform, how much does it cost and most importantly – is eToro good for crypto?
By the end of this eToro review, you'll feel more confident and prepared to stand next to experienced investors and discuss crypto trading on eToro. Are you ready? Let's begin!
eToro crypto review guide
Today, eToro offers cryptocurrency trading, wallet, staking, and even crypto copy trading – everything in one platform. It has more than 70+ crypto coins available on the platform.
The process of trading cryptocurrencies on eToro is the same as if you would trade stocks, but the most significant differences are in fees, trading hours and even regulation. Pick a topic below to find out more.
Cryptoasset investing is unregulated in some EU countries and the UK. No consumer protection. Your capital is at risk.
eToro virtual account
eToro users can test the cryptocurrency market for free by creating an account on eToro and selecting a virtual account. Most features will work exactly the same as on a real account. The virtual or demo account will be funded with $100,000 fake money so feel free to go crazy and test the most ridiculous investment strategy.
Cryptocurrency CFD trading on eToro
eToro users can trade forex, stocks, cryptocurrencies and other underlying assets. However, if you would like to raise the profit potential (as well as the risk), you can have a look at CFD trading. Trading CFDs is usually more suitable for experienced investors, but you can test your trading strategies in a free demo account without worrying about losing money rapidly.
Many retail investor accounts lose money when trading CFDs. Hence, if you would like to trade CFDs in a real money account, it's good to play with the trading app and see how features like social trading, copy trading, and other advanced trading tools can help develop your own trading strategies for crypto trading.
78% of retail CFD accounts lose money. Cryptoasset investing is unregulated in some EU countries and the UK. No consumer protection. Your capital is at risk.
eToro crypto fees explained
Here is the most crucial question: Is eToro expensive for crypto traders? Recently, eToro introduced a new crypto fee structure that is much easier to understand than the previous one. But that's not all – it's also cheaper! Now, cryptocurrency traders can easily calculate the approximate costs of a cryptocurrency acquisition. In the past, it was relatively expensive to buy other cryptocurrencies than Bitcoin. The new fee structure made eToro an attractive place to buy any cryptocurrency.
Insignificant costs like inactivity and withdrawal fees (which is 5 USD per withdrawal) won't affect most traders. However, the fees that add up and are essential to evaluate are mentioned below, and these are the ones from which eToro makes money. Let's look at them one by one.
eToro crypto buying and selling fees
Now, when you buy any cryptocurrency on eToro, you'll pay a 1% fee on top of the market price (Bid-Ask spread) and a 1% fee when selling the cryptocurrency. The selling fee is deducted at the buying time, but it's adjusted when you sell the cryptocurrency. In short, you'll see approximately a 2% loss right after you buy the crypto on eToro. That's because of the fees collected by eToro.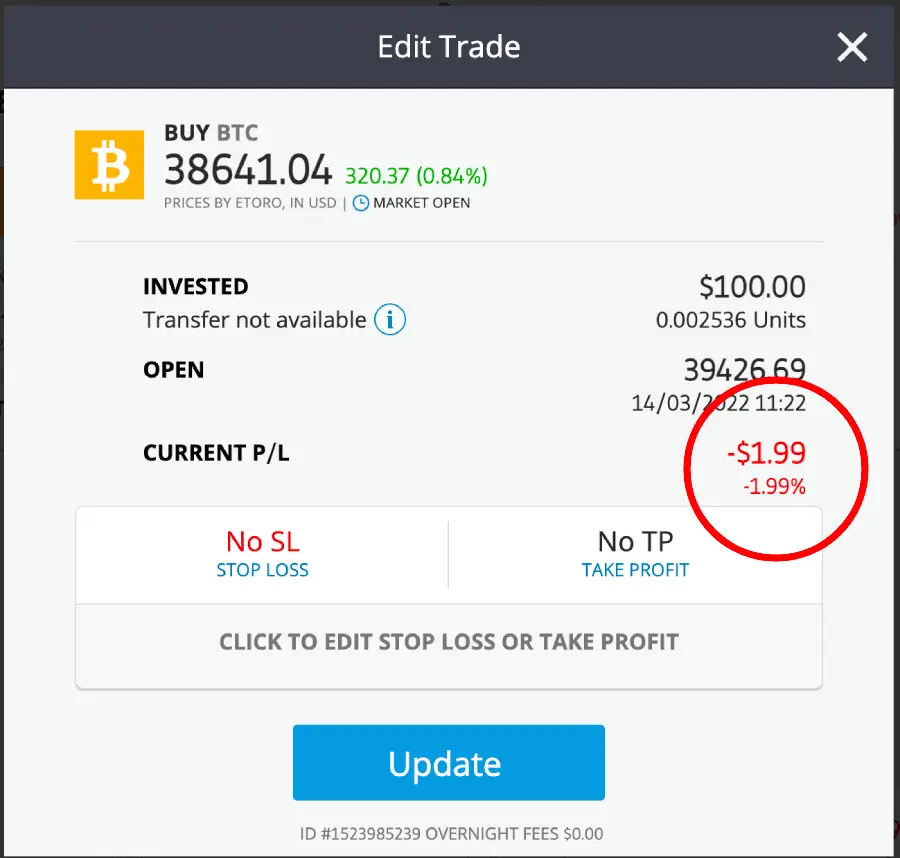 Remember, zero-commission stock trading applies only to stock trading only. And so far, no brokers would offer no trading fees on cryptocurrencies.
With such a fee structure, you'll be able to buy various cryptocurrencies without overspending on trading fees. Before, it was expensive to buy other cryptos like Decentraland, Bancor, Quant, ApeCoin, Shiba Inu, etc. Now, it's even cheaper to buy cryptocurrencies on eToro than on the Revolut crypto section.
Now, you can better understand eToro fees related to cryptocurrencies' buying and selling process.
eToro deposit fees
The platform does not charge a deposit fee. However, there's a currency conversion fee that you may need to pay if you're depositing funds in any other currency than USD. Deposit conversion fees based on the deposit method:
| Deposit method | Major currencies (Except USD) |
| --- | --- |
| Wire transfer, Trustly, Sofort and iDEAL. | 50 pips (0.0050) |
| Credit Cards, PayPal, Skrill, Neteller, RapidTransfer and others. | GBP, EUR & AUD: From 50 – 150 pips (0.0050 – 0.0150) |
eToro currency conversion fees when depositing funds.
For example, if you're depositing 1,000 EUR from Germany using a credit card, you'll pay approximately 5 USD in currency conversion fee.
You can reduce conversion fees by 50% if you deposit more than 25,000 USD (Starting from the Platinum account) and up to 100% if you deposit more than 250,000 USD. This applies only to deposits via bank transfer, iDEAL, Sofort and Trustly when funding accounts from AUD, EUR or GBP currency.
In many cases depositing via bank transfer may be the cheapest option, but you may lose some time while funds show up in your account. Usually, it takes around 4-7 business days. If you want to fund your account almost instantly, then a credit card, PayPal, Skrill or Neteller would be a better option. Recently, PayPal introduced a cryptocurrency hub to their users from the US and UK but it's more expensive than eToro.
eToro money wallet fees
Withdrawing crypto from eToro – You have an option to either keep your crypto assets in your eToro account or withdraw and store them in your crypto wallet. eToro users in Europe and the UK can withdraw their crypto-assets from the eToro platform to their eToro crypto wallet. This transfer will include eToro and the blockchain fees, which are usually around 0.5%. The minimum fee is $1, and the maximum is capped at $50. This fee is applied to all crypto assets on the platform.
Coin transfer fee: 0.5% of the transaction size
Minimum fee: $1 (in units)
Maximum fee: $50 (in units)
eToro withdrawal fees
If you want to withdraw money to a bank account, you'll be charged a 5 USD fee for every withdrawal. Please note, that the minimum withdrawal amount is 30 USD.
eToro Pros and Cons
eToro is known for its excellent social copy trading and cryptocurrency trading. It's user-friendly, feature-rich, and designed to provide a smooth experience through its seamless mobile and web application. In short, it's relatively straightforward, hence easy to use even for beginners. It gives users numerous choices of buying crypto-assets outright or trading on the crypto price movements. You can try it at no additional cost in a free practice account.
78% of retail CFD accounts lose money. Cryptoasset investing is unregulated in some EU countries and the UK. No consumer protection. Your capital is at risk.
The table below summarises the most prominent advantages and disadvantages of the eToro crypto trading platform.
Pros
Perfectly designed for beginners – they have made the crypto trading experience as easy as possible. eToro is a user-friendly platform.
A simple fee structure – recently, eToro has changed the crypto fee structure, making it easy to estimate the crypto buying/selling costs.
Demo account – Test the platform in a free virtual account. As a new user, eToro gives you up to $100,000 worth of virtual money to mimic market transactions.
Convenient deposit options – PayPal, Credit Card, Wire Transfer, Skrill, Neteller, etc.
Supports 120+ cryptocurrency pairs.
Social trading – If social trading excites you, then eToro is one of the leading platforms in this sense.
Highly trusted – Has been in the market since 2007. Etoro has been in the market since 2007. It's also becoming a publicly-traded company.
Margin trading – If you are an experienced trader, you can take advantage of eToro's margin trading. Margin trading allows you to access various trading instruments with leverage.
Learning from experienced/advanced traders – As a newbie, eToro allows you to learn from experienced traders through social trading. They also offer research and insights from seasoned traders, various trading courses, market news etc.
A secure hot wallet – The platform offers a digital wallet for its users. The wallet supports over 70 cryptocurrencies and allows users to receive, store, buy, transfer, or convert more than 120 currency pairs. However, you must be a verified user to enjoy the services of an eToro crypto wallet.
eToro minimum deposit – depending on your location, the minimum deposit starts from 50 USD. Please check the eToro website for more information.
Cons
Lack of live customer support – Customer support is not reliably responsive. There's no telephone customer support as well.
Cryptocurrency withdrawal limits – There is no option to withdraw all cryptocurrencies yet.
No buyer/seller marketplace for cryptocurrencies.
Country limits – eToro is unavailable in some countries, and there may be limits on features and crypto coins you can buy or trade.
Deposit minimums vary from country to country – In most countries where the platform operates, the minimum deposit is 50 USD (EUR).
Transferring coins from the eToro wallet to the eToro trading platform is impossible.
Only 2 (soon 3) crypto coins are available for staking.
Is eToro good for crypto?
In short, yes and no. We need to look at many aspects and whether you're an advanced or a beginner trader to answer the question. We believe that eToro is a perfect place to begin trading cryptocurrencies due to eToro's high-security standards and the social aspect of the platform. Advanced crypto traders may benefit from the same features and tools but may lack some less popular coins on the platform. These coins are usually riskier and carry a higher potential for fraud. Therefore, eToro is a good platform for cryptocurrency trading for beginners. It might also be a good option for advanced traders to discuss trading ideas with other traders and if the list of available cryptocurrencies is sufficient for them.
We consider eToro good because of its:
A simple fee structure for crypto trading.
Excellent web and mobile trading platform.
Great educational tools.
An easy-to-use platform.
Safety: regulated by top-tier regulators.
Additionally, eToro would work well for you if you want to copy other experienced traders by following trading moves through their social trading. The platform also has 70+ established crypto assets to buy, hence a greater selection than most crypto brokerage firms.
Cryptoasset investing is unregulated in some EU countries and the UK. No consumer protection. Your capital is at risk.
How to buy Bitcoin on eToro?
Time needed: 15 minutes.
Buying cryptocurrencies on eToro is a simple process that mainly consists of 9 steps. Let's go through it step by step so that you can own your first cryptocurrency in no time.
Register an account with eToro

Go to the eToro registration page and sign up for the account. You can sign up using your email, Facebook, or Google account.


Verify your e-mail

If you used e-mail to register on the platform, you must confirm your e-mail. To do this, go to the e-mail address you provided during registration and click on the link sent by eToro.


Verify your account and identity

Once you register the account, you can immediately access the trading platform. However, you have to verify your identity and residency by uploading a copy of your passport or personal ID and a copy of a utility bill or a bank statement. There's also a short questionnaire regarding your trading experience that you must complete. It's a standard process for a regulated financial institution.



Deposit money into your account

To buy cryptocurrencies, you need to deposit money in your account. Your first deposit can be made by credit card, debit card, PayPal, bank transfer, etc. The minimum deposit for most countries is 50 USD but it may vary based on your location. If you want to use your deposit instantly, avoid bank transfer because it usually takes 4-7 business days to settle into your account.


Go to the 'Discover' section

To find your preferred cryptocurrency, go to the "Discover" section. You can see all the available assets that can be traded on eToro. Click on the search function and enter the cryptocurrency you want to buy, i.e. Bitcoin.


Find Bitcoin

When you have found Bitcoin, click on the "Trade" button.


Choose the amount you want to exchange

You can either choose the amount you want to exchange for Bitcoin or specify how many units you want to buy from a particular cryptocurrency. You can also purchase part of the cryptocurrency.


Congratulations! You just bought your first cryptocurrency on eToro.

Please note, you may see a slight loss in the very beginning because you pay fees when buying cryptocurrencies on eToro. Read more about eToro crypto fees to understand how it works.


(Recommended) Set your 'Stop Loss' and 'Take profit'

Cryptocurrency prices are highly volatile, so we recommend setting a 'stop loss' and 'take profit' limits to avoid unpleasant surprises. You can enter the maximum amount you're prepared to lose and the amount of profit you'd like to take if the particular cryptocurrency increases in value.

eToro safety
There are multiple measures that eToro takes to protect you from potential fraud when using the platform and when depositing funds into your account.
When depositing funds and using the platform, eToro uses an SSL (Secure Socket Layer) technology to protect your personal and credit card (or other information).
eToro Money crypto wallet – eToro uses multi-signature facilities, DDoS protection, and standardization protocols to keep the wallet safe.
One of the major security measures eToro has taken is to separate accounts in the platform from its related bank accounts. Moreover, they only deal with major international banks such as Barclays Bank and Coutts. They are also hailed as one of the most secure platforms in compliance with financial regulation.
The platform also uses both hot and cold wallets to store your crypto assets. According to eToro, they mostly use a cold wallet whenever you leave your crypto assets on your account and just a small portion of your assets on the hot storage for liquidity purposes. The eToro wallet is, however, a hot wallet; thus can be assumed to rely on the overall security of eToro.
eToro regulation
eToro operates under strict regulations. It's regulated by the top-tier FCA and ASIC, which is a good sign of taking its safety seriously. eToro is generally considered a low-risk platform. For example, it serves UK clients through a unit regulated by the Financial Conduct Authority (FCA). For Australian clients, eToro acts through an Australian Securities and Investment Commission (ASIC) – regulated entity. For the rest of the world, eToro operates under a Cypriot unit that is regulated by the Cyprus Securities and Exchange Commission (CySEC). For the US market segment, eToro's online platform is served by eToro USA LLC, which is registered with the FinCEN (Financial Crimes Enforcement Network) as a Money Services Business.
Please note, that cryptocurrencies, in general, are still an unregulated asset class in most markets, and the regulation above is mainly directed to the legal entities of eToro and the platform.
Is eToro legit or a scam?
The first question before opening an account is whether eToro is legit or a scam? To ascertain this, you must look at the platform history, regulations and reviews. We have already covered the regulation question above, so we can confidently say that eToro is a legit platform with a history in the financial sector for more than a decade.
Judging by the reviews, we've noticed that most of the complaints that accuse eToro of being a scam are related to unsuccessful traders who have lost their funds with the platform. We cannot consider these cases as scams because various investment products carry a certain level of risk, and investing in cryptocurrencies or stocks is risky. You can lose the initial investment when making bad trades, no matter which platform you use. Set your expectations and educate yourself about investment products to understand the risks involved. I.e. CFD trades carry a much higher level of risk and are not recommended for beginner traders. If you feel comfortable with the risks involved, you can trade CFDs.
Crypto copy trading on eToro
eToro is a pioneer in copy trading, and they introduced the feature even before the cryptocurrencies were available. When eToro introduced cryptocurrency trading in 2013, crypto copy trading was already there. Today, it's also known as 'cryptocurrency social trading'. eToro's copy trading via its CopyTrader feature allows users to copy and trade automatically based on the moves of other traders, most experienced traders.
eToro has capped the minimum amount to copy a user at $200 and the maximum at $2,000,000. As a user, you can copy up to 100 traders simultaneously, a great feature that new traders can enjoy as they master the art of trading crypto on eToro.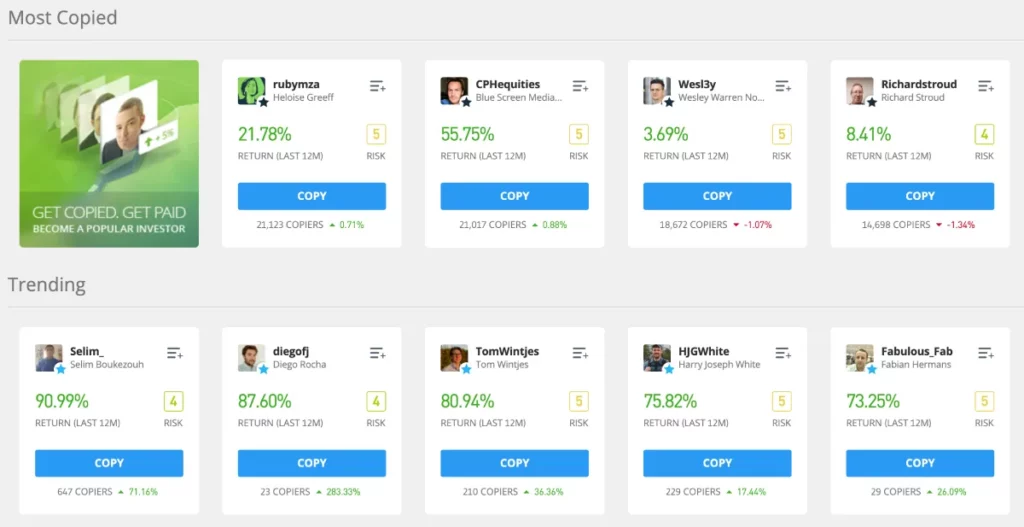 Please note: Past performance is not an indication of future results. The trading history presented is less than 5 complete years and may not suffice as a basis for an investment decision.
Other than the option to use eToro's CopyTrader, you can also view millions of other traders' portfolios, stats, and risk scores. While copy trading can be an exciting feature in the eToro crypto platform, investing this way can be pretty risky due to the speculative nature of cryptocurrencies. It makes it more of a gamble than just buying your crypto asset and holding it for the long term. This is because most users generally buy and sell crypto in the short term.
Many of us don't have enough time to follow the market trends, crypto fear & greed index, and latest news, so crypto copy trading comes in handy. You can search the platform to find the best eToro crypto trader and copy their trades. This way, you can make your trading process completely passive. Bear in mind that there are no guarantees, and the previous success doesn't guarantee the same results in the future. We recommend reviewing the performance from time to time to eliminate unpleasant surprises.
eToro crypto exchange
Buying crypto on eToro is a simple process as the platform offers to buy crypto assets and exchange crypto-to-crypto on the wallet. For example, you can exchange USD for Bitcoin (BTC) or BTC for BCH (Bitcoin Cash). You need to consider exchange fees according to the price list when exchanging funds to cryptocurrencies or crypto-to-crypto.
The minimum trade size for crypto on the eToro platform is 10 USD, but if you'd like to move your crypto coins to the eToro wallet, you'll need to hold at least the minimum amount of crypto coins to do that. The minimum amount is specified in units.
What is eToroX?
eToro has developed a separate platform for its advanced traders known as eToroX. As an advanced crypto exchange, eToroX currently specializes in stablecoins for most trading pairs. These stablecoins are issued and backed by eToro.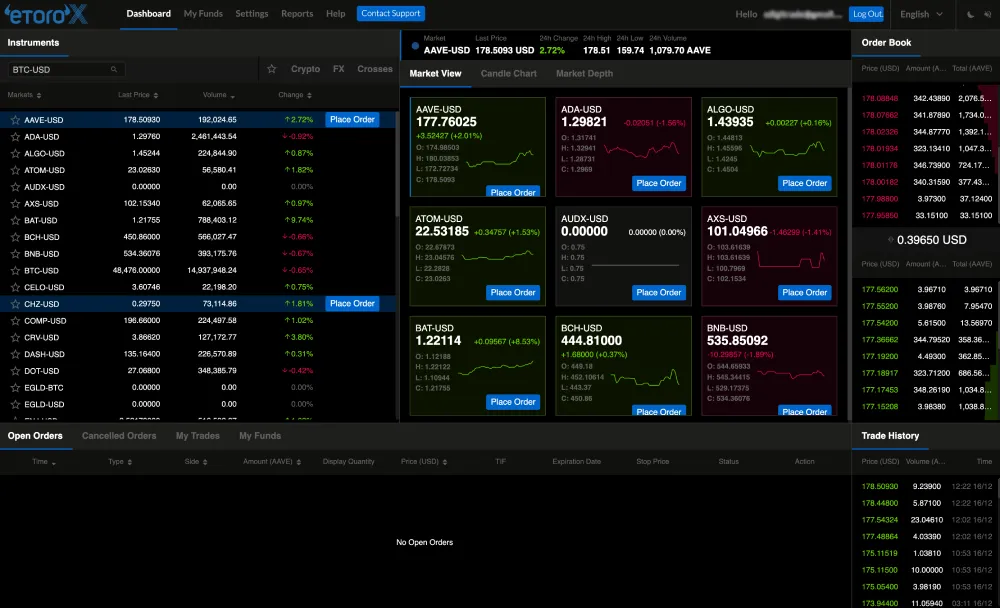 The platform is a crypto-only exchange. This could signify that the parent company, eToro, wants to offer its client base more than a brokerage service but a full exchange. As a centralized exchange, eToroX requires you to register and verify your account, which can be done via eToroX or eToro.com. You can trade different cryptocurrencies and stablecoins on eToroX. The trading fees on eToroX work on a maker-taker model, ranging from 0.1% to 0.03%, depending on the order size.
It's a great move by eToro because the users could only trade cryptocurrencies on the trading platform, giving them a whole new concept to explore already offered by crypto exchanges.
eToro app
If you're using the eToro trading platform from a web browser, either on your phone on computer, in that case, the eToro mobile app will provide you with a better user experience and some additional features. These features may come in handy to stay informed with critical notifications about the account and market. The app is in iOS and Android versions, with positive reviews.
eToro crypto alternatives
When choosing an alternative, it's crucial to understand the primary goal of buying or trading cryptocurrencies. I.e. Is it a long term investment, is it short speculation, etc. We have already reviewed Revolut crypto trading features. However, the alternatives listed in the table below are more popular for cryptocurrency trading.
Feature
eToro
Coinbase
Binance
Plus500
Coins
70+ crypto coins
130+ crypto assets
500+ crypto assets
15+ crypto assets
Fees
A 1% fee for buying.
A 1% fee for selling.
0.50% Spread and Trading fee between 1.49% and 3.99% (or $0.99 to $2.99 flat fee).
0.1% trading fee and 0.5% fee for instant buy/sell (depending on the trade amount).
Zero commission trading. Compensation is through the bid-ask spread. Other fees include a $10 inactivity fee, 0.7% currency conversion fee, overnight funding, and a guaranteed stop order fee.
Wallet storage
Keep coins on an eToro trading platform account, move them to an eToro wallet, or transfer them to your wallet.
Keep coins on your Coinbase account, Coinbase wallet option, or transfer to your wallet.
Keeps coins on your Binance account, Binance wallet option or transfer to your wallet.
No storage is available as Plus500 is a CFD trading broker, not a cryptocurrency exchange.
Minimum Trade
$10.00
$2.00
$10.00
Varies
eToro registration
Coinbase registration
Binance registration
Plus500 registration
79% of retail CFD accounts lose money.
eToro cryptocurrency trading alternatives
Cryptoasset investing is unregulated in some EU countries and the UK. No consumer protection. Your capital is at risk.
How to sell crypto on eToro?
Selling cryptocurrencies on the eToro platform is as easy as buying.
Log into your account or the mobile app version.
Click on your portfolio section.
Click on the crypto asset you wish to sell, either on the online platform or on the mobile trading platform.
Close all or part of the transaction.
Buy something else or withdraw the money.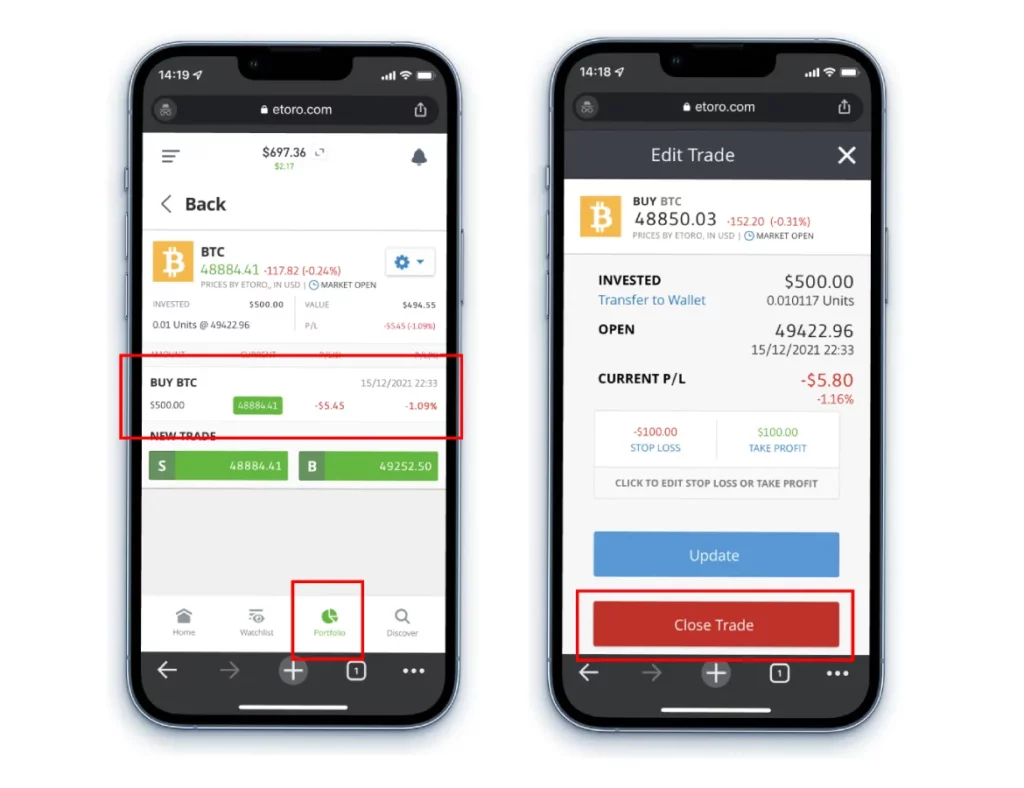 FAQ about the eToro crypto platform
Is the eToro crypto wallet safe?
Yes, the eToro wallet is considered safe because eToro uses multi-signature facilities, DDoS protection, and standardization protocols to keep the wallet safe.
Is eToro a wallet or an exchange?
Since eToro offers its services in multiple regions and countries, the service list may vary from country to country. eToro is mostly a trading platform, but it has developed a separate platform called 'eToroX', which operates as an exchange.
How many cryptocurrencies are available on eToro?
eToro trading platform offers to buy more than 70+ crypto coins. However, there is also a separate crypto exchange developed by eToro called 'eToroX', which supports more than 120 crypto pairs.
How to buy crypto on eToro?
To buy cryptocurrencies, you must have an account with the platform. Once you have arranged the account and verified your identity, you must deposit at least the minimum amount and find the cryptocurrency you want to buy. See the entire process of how to buy Bitcoin on eToro.
Disclaimer
eToro is a multi-asset platform which offers both investing in stocks and crypto assets, as well as trading CFDs.
Please note that CFDs are complex instruments and come with a high risk of losing money rapidly due to leverage. 78% of retail investor accounts lose money when trading CFDs with this provider. You should consider whether you understand how CFDs work and whether you can afford to take the high risk of losing your money.
Past performance is not an indication of future results. The trading history presented is less than 5 complete years and may not suffice as a basis for an investment decision.
Copy trading is a portfolio management service, provided by eToro (Europe) Ltd., which is authorised and regulated by the Cyprus Securities and Exchange Commission.
Cryptoasset investing is unregulated in some EU countries and the UK. No consumer protection. Your capital is at risk.
eToro USA LLC does not offer CFDs and makes no representation and assumes no liability as to the accuracy or completeness of the content of this publication, which has been prepared by our partner utilizing publicly available non-entity specific information about eToro.
Wallet and Exchange services provided by eToro X Limited ('eToro X'), a limited liability company incorporated in Gibraltar with company number 116348 and with its registered office at 57/63 Line Wall Road, Gibraltar. eToro X is a regulated DLT provider licensed by the Gibraltar Financial Services Commission under the Investments and Financial Fiduciary Services Act with licence number FSC1333B.