If you've heard that PayPal has launched cryptocurrencies on their app, that's correct! It's been around for a couple of years now. However, if you don't see the cryptocurrency hub in your account, there's also not-so-good news – it may not be available in your country. At the moment, PayPal has launched cryptocurrencies in the US and UK, and the rest of the PayPal users in other countries will have to wait until it happens. But don't worry if you're not from either of those countries – we'll also show you how to buy crypto with PayPal in Europe. After checking the crazy crypto fees, you may not be so disappointed. But let's not rush ahead and begin with the main question – is a cryptocurrency hub on PayPal available in your country?
PayPal crypto hub supported countries
PayPal and other global companies frequently confuse their international users by mixing activities in different markets. Let's try to make it clear, PayPal crypto hub is currently available in the following countries (or, more precisely – to residents of these countries):
United States (You must be a resident of the United States or one of its territories. PayPal crypto hub is not available if you're a resident of Hawaii.)
United Kingdom
And that's it! No more countries at this time. However, as we already mentioned, there are ways to use your PayPal funds to buy cryptocurrencies on other platforms that support PayPal as a funding method and you as a resident outside the mentioned countries.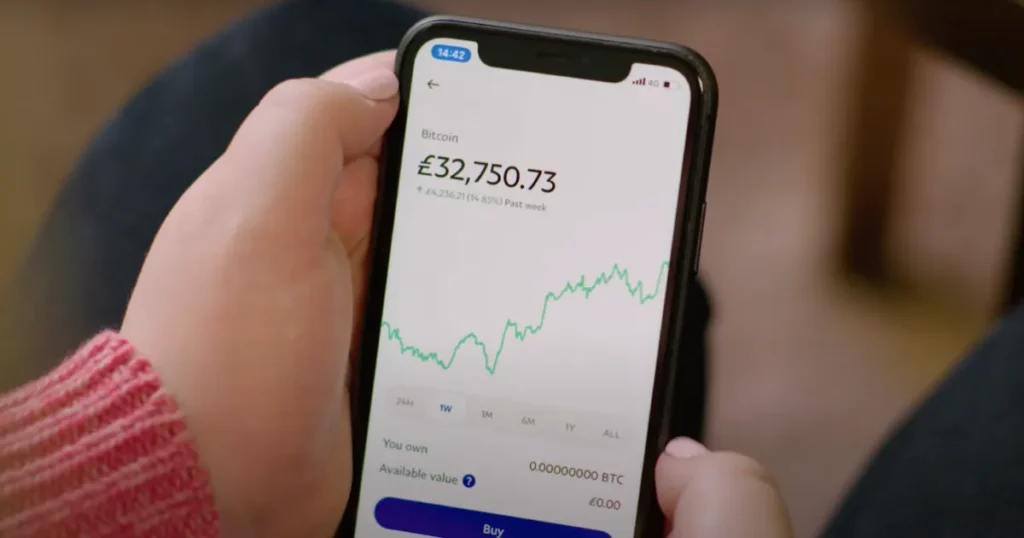 PayPal cryptocurrency fees
Before we learn how to buy cryptocurrencies with PayPal, we must learn more about PayPal crypto fees. Unfortunately, they're not so pleasant, and you may overpay significantly for convenience if you're a PayPal user who wants to do all things money in the same app.
Below is an example of approximate costs when trading Bitcoin worth £1,000 on the PayPal crypto hub. For the sake of example, let's assume that the value of Bitcoin did not change during the holding period. It's like you'd change your mind and sell your cryptocurrencies right after the purchase.
Buying Bitcoin: £1,000 * 1.8% = £18 (Buying fee)
Bitcoin value in the account after buying: £982
Selling Bitcoin: £982 * 1.8% = £17.68 (Selling fee)
Account value after the trade: £964.32
Paid in fees after one trade £35.68
The buying/selling fee is based on the amount you want to exchange, but it's still rather pricey even for more significant amounts, dropping to 1.5% per transaction. And when buying cryptocurrencies for up to £24.99, the fee is £0.5 per transaction. It's approximately 5% per deal when buying £10 worth of crypto!
| Buying/Selling amount | Fee |
| --- | --- |
| £1.00 – £24.99 | £0.50 |
| £25.00 – £100.00 | 2,3% |
| £100.01 – £200.00 | 2,0% |
| £200.01 – £1000.00 | 1,8% |
| £1000.01 – £… | 1,5% |
Source: PayPal fees
How to buy Bitcoin with Paypal (US and UK only)
The cryptocurrency buying process is straightforward if you're a resident of one of the countries where the PayPal cryptocurrency hub is available. Pretty much as in the video below:
You can buy cryptocurrencies from £1 (or $1) and up to £15,000 per transaction (Also a weekly limit).
Log into your PayPal account.
Go to the Crypto section.
Pick Bitcoin from the crypto list.
Click on the "Buy" button.
Enter the amount you want to exchange and click "Next".
Review and agree to the terms and conditions to continue.
Pick a funding source (i.e. your PayPal account balance, debit card or bank account linked to your PayPal account). Please note that you cannot buy cryptocurrencies using a credit card or other credit products.
Review your deal and click on "Agree and Buy".
That's it! You've just bought Bitcoin on PayPal.
PayPal cryptocurrency hub in Europe
To offer cryptocurrencies, PayPal is using a trading service provider – Paxos. Since we don't see other supported countries by Paxos, we believe the launch in other countries will not happen anytime soon. But let's hope for the best!
How to buy crypto with PayPal in Europe
We'll have to look for an alternative option since no PayPal crypto hub exists in Europe yet. But that's not a big deal since some brokers and exchanges accept PayPal as a funding method. So, you can use your PayPal funds to buy cryptocurrencies on a different platform.
You will also save on buying/selling fees because we'll have a look at eToro, which offers lower fees for crypto trading than PayPal. Also, it has more than 70 cryptocurrencies available for trading.
List of all cryptocurrencies available on the Paypal Crypto hub

You can buy only four cryptocurrencies on the PayPal crypto hub. Yes, the list is so tiny that you can even remember it:
Bitcoin (BTC)
Litecoin (LTC)
Ethereum (ETH)
Bitcoin Cash (BCH)
Top 3 cryptocurrency exchanges that accept PayPal
If you want to buy other cryptocurrencies or pay with PayPal on a more significant scale, a few exchanges accept PayPal as a funding method. The top 3 are:
eToro – a quick guide on how to buy cryptocurrencies on eToro can be seen above. eToro is known for its social trading platform where investors can trade crypto, stocks, forex, ETFs and other assets. You can buy over 70 cryptocurrencies on eToro. The minimum deposit depends on your residency but varies from $50 to $200. Please note PayPal is not available in the following countries: Algeria, American Samoa, Antigua and Barbuda, Argentina, Aruba, Belgium, Belize, Bermuda, Bolivia, Brazil, Cayman Islands, Colombia, Costa Rica, Dominica, Dominican Republic, Ecuador, El Salvador, Falkland Islands, French Guiana, Guam, Honduras, India, Malaysia, Mayotte, Morocco, Netherlands Antilles, Northern Marianas, Paraguay, Peru, Puerto Rico, Reunion Island, Saint Lucia, Saudi Arabia, United Kingdom and Virgin Islands. Using this service, the following countries are unavailable for first-time deposits: Romania, Slovakia, Denmark, Bulgaria, Finland, and Hungary.
Paxful – Paxful is a PTP (peer-to-peer) crypto marketplace. You can buy crypto with PayPal on Paxful, but the process differs slightly from a regular exchange. You need to find an offer that suits your needs, and once you do, the trade will be escrowed, and you will get your crypto. The fees on PTP platforms are usually higher than on a regular exchange since the other person is taking all the risks.
Crypto.com – on Crypto.com, you can buy a comprehensive list of cryptocurrencies. They accept PayPal as a deposit method, with no deposit minimums.
PayPal cryptocurrency hub disadvantages
Cryptocurrencies come with multiple risks that include volatility risks, security risks etc. So it's essential to look at the disadvantages to see if you're not adding more risks to an already risky investment. There are some disadvantages when using PayPal as your primary account for buying cryptocurrencies.
Let's see what kind of other risks or disadvantages you're exposing yourself to when choosing PayPal for your crypto investments:
According to PayPal Cryptocurrency Terms and Conditions, "When you Buy Cryptocurrencies, you are not buying specific, identifiable Cryptocurrencies. Instead, you purchase rights regarding Cryptocurrencies, which PayPal will arrange to be held as described under the section "Holding Cryptocurrencies". It means that cryptocurrencies are held in their account in their name.
When you buy cryptocurrencies on PayPal, you are also subject to currency exchange fees if you're a UK citizen because cryptocurrency buying is done in US dollars. PayPal determines the currency exchange rate, which may differ from the exchange rate available through other providers.
In the UK, you cannot send your cryptocurrencies to an external wallet or send them to other users. (This feature has been launched in the US, though).
The same goes for sending crypto outside the app to your PayPal account. At the moment, it's not available in the UK. (This feature has been launched in the US).
PayPal crypto hub risk warning
The FCA or the CSSF has no authority over your Cryptocurrency Hub's cryptocurrency activity. It's not a part of the FOS or ECC's purview, so any concerns you may have regarding the Cryptocurrency service cannot be sent to the FOS or ECC. The United Kingdom and Luxembourg Financial Services Compensation Schemes offer no protection for cryptocurrency transactions. Those schemes would not compensate any losses you incur from Buying or Selling cryptocurrencies.
FAQ on PayPal crypto hub
Can I buy crypto with PayPal?
Yes, you can buy cryptocurrencies on PayPal if you're a US or UK resident. The rest of the world can use alternative platforms that accept PayPal as a payment option to utilize PayPal funds.
How to buy crypto with Paypal?
To buy cryptocurrencies on PayPal, you must go to your " Crypto " account tab and find the cryptocurrency you want. If you don't see the cryptocurrency tab in your PayPal account, it's most likely not supported in your country. You must find an alternative to use your PayPal funds for cryptocurrency acquisition.