Renewable energy stocks are gaining popularity among investors looking to protect their investment portfolio in the fast-changing circumstances affected by the war in Ukraine. The current economic sanctions affect the prices of fossil fuels such as oil and natural gas. Moving into alternative energy sources could help become more independent, avoid a drastic price increase in energy resources and replace it with a more sustainable and nature-friendly option. In the alternative energy stocks list below, you'll find companies directly involved in this sector.
Due to economic factors, global warming and instability in the energy sector, renewable energy companies have a high chance to grow their revenues and increase shareholder value in 2022. You can look at the lists of renewable energy stocks based on specific categories below. The list includes the two most popular renewable energy company categories:
Renewable or alternative energy
Renewable energy is another name used to denote electricity, which is derived from alternative energy sources such as wind, sun, rain, hydroelectricity, geothermal power, etc.
How to invest in renewable energy stocks?
To invest in renewable energy stocks, you need an account with a stockbroker. Once you have opened an account with a broker and deposited the funds you want to invest, you can look at the stocks below to choose the most suitable.
The shares on the lists below are available on the eToro and Nextmarkets investment platforms.
Broker
eToro
Nextmarkets
Assets
2,500+ stocks and 100+ ETFs
7,000+ stocks and 1,000+ ETFs
Fees
No fees on stock trading.
No fees on stock trading for trade orders above 250 EUR.
Availability
International availability
(More specifics on eToro website)
Available only in Europe.
eToro registration
Nextmarkets registration
Zero commission means that no broker fee will be charged when opening or closing the position and does not apply to short or leveraged positions. Other fees apply. Your capital is at risk. For more information, visit etoro.com/trading/fees.
Solar power generation
Solar power is a term commonly used to refer to electricity generation from sunlight. Solar panels are placed in direct contact with the sun, making sunlight flow backwards and producing electrical power.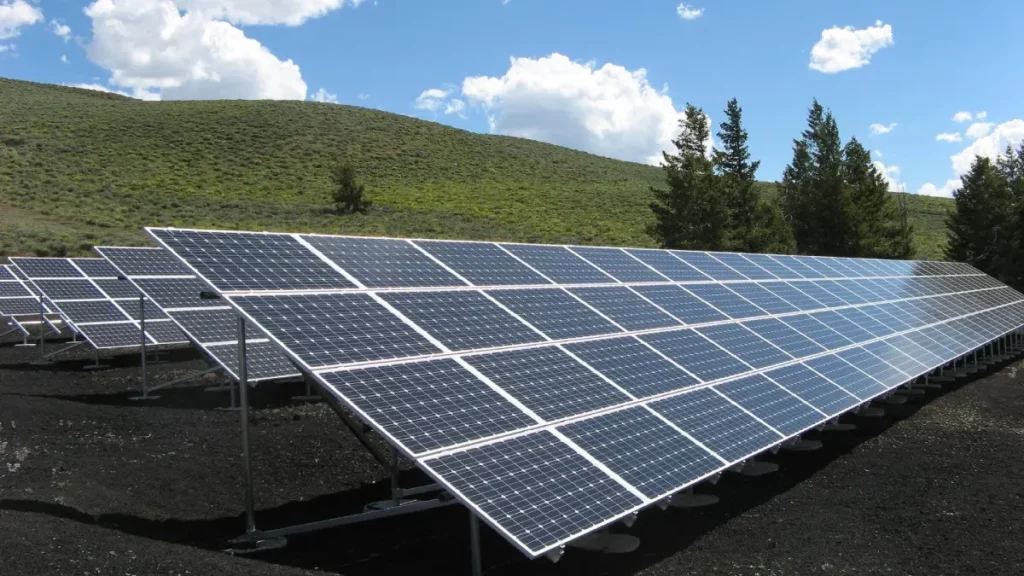 Solar energy stocks list – 22 Companies
| # | Company name | Symbol | Market |
| --- | --- | --- | --- |
| 1 | Array Technologies | ARRY | NASDAQ |
| 2 | Canadian Solar | CSIQ | NASDAQ |
| 3 | Enphase Energy | ENPH | NASDAQ |
| 4 | Ballard Power Systems | BLDP | NASDAQ |
| 5 | CleanSpark Inc | CLSK | NASDAQ |
| 6 | SolarEdge | SEDG | NASDAQ |
| 7 | SunPower | SPWR | NASDAQ |
| 8 | Sunnova Energy International Inc | NOVA | NYSE |
| 9 | Tesla, Inc. | TSLA | NASDAQ |
| 10 | Ameresco | AMRC | NYSE |
| 11 | Xinyi Solar Hldgs | 0968.HK | HKG |
| 12 | First Solar | FSLR | NASDAQ |
| 13 | Nel | NEL.OL | OSL |
| 14 | Sunrun | RUN | NASDAQ |
| 15 | Nordex | NDX1.DE | GER |
| 16 | JinkoSolar | JKS | NYSE |
| 17 | Daqo New Energy | DQ | NYSE |
| 18 | ReneSola | SOL.US | NYSE |
| 19 | NextEra Energy | NEE | NYSE |
| 20 | Algonquin Power & Utilities Corp. | AQN | NYSE |
| 21 | NextEra Energy Partners | NEP | NYSE |
| 22 | Ormat Technologies | ORA.US | NYSE |
Best solar energy stocks.
Wind power generation
This type of electric power is widely collected in power plants that are located on land or offshore. Over time, it has become easier to transform this energy into renewable energy, which brings great potential for investment opportunities in renewable energy company stocks.
Wind power producers and installers are focused on growing their business by entering specific markets. Wind power production is one of the most cost-efficient sources of electricity, making this kind of electrical energy highly attractive to investors. Currently, wind turbines in offshore wind farms in New Zealand and Australia can produce 7% of their electricity. Therefore, wind power is becoming an essential part of wind farm development.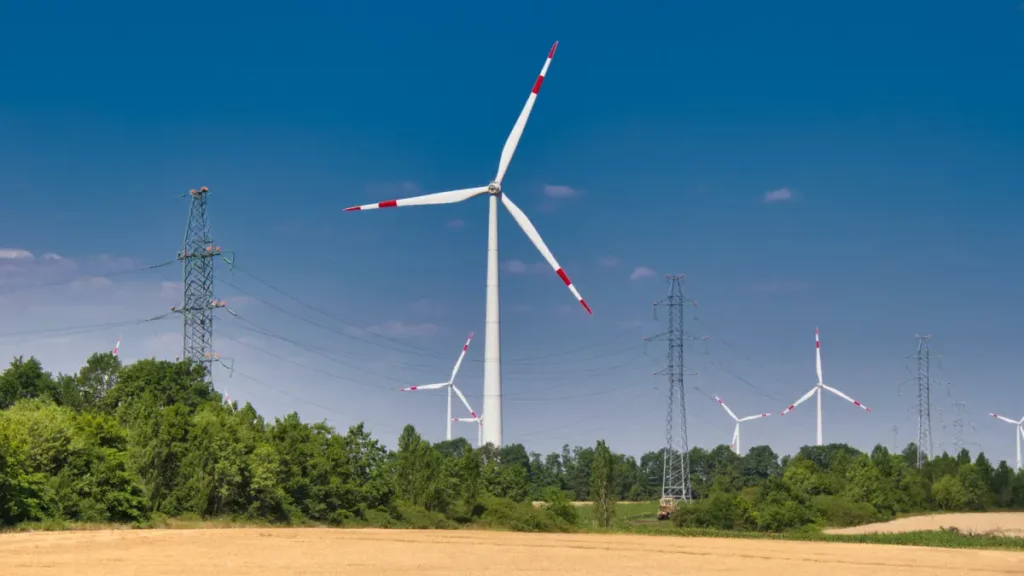 The top wind turbine companies are:
Vestas
Siemens
Engie
GE Appliances
Blimpix
Due to greater efficiency than other forms of wind power, wind farms can generate large quantities with relatively low costs. For example, a wind farm installed near Cape Cod could produce up to 600 MW of wind in 12 hours. A key benefit of wind is that wind turbines can produce clean, green hydrogen without pollution when burned in a fuel cell. It also makes enough carbon dioxide to keep cities cool in winter while ensuring the safety of people during stormy weather conditions.
While wind power remains popular because it is a clean source of electricity, it is also tough to build windmills. There is still a long road ahead in the wind industry because the wind isn't always in the right place for wind turbines to generate enough wind. Nevertheless, one advantage to wind-powered power is that it isn't expensive to build wind turbines. Overall, wind power is still seen as a promising growth area for investors looking to make money.
Wind energy stocks list – 7 Companies
| # | Company name | Symbol | Market |
| --- | --- | --- | --- |
| 1 | TPI Composites | TPIC | NASDAQ |
| 2 | FuelCell Energy | FCEL | NASDAQ |
| 3 | Plug Power | PLUG | NASDAQ |
| 4 | Vestas | VWS.CO | CPH |
| 5 | General Electric | GE | NYSE |
| 6 | Encavis | ECV.DE | GER |
| 7 | Orsted | ORSTED.CO | CPH |
Best wind energy stocks.
Should I invest in renewable energy stocks?
Although there are some concerns over using fossil fuels as a major source of electricity because of global warming, the U.S. Energy Information Administration estimates that wind, water, and hydroelectric power will account for nearly 60% of all electricity generated by 2050.
A new survey released by DNV GL suggests that wind is projected to become the leading source of electricity generation by 2024. However, even then, wind turbines are not expected to completely replace coal-related electricity. Still, they should be able to provide more power, which increases the likelihood of meeting increased demand.
According to Frost & Sullivan, the wind power market was estimated at $35 billion in 2016 and will reach $110 billion by 2025. According to RBC Capital Markets, the wind turbine market is currently worth $3 billion and will continue to grow.
These factors will result in higher sales and earnings expectations and an overall positive financial outlook for investors.
Why invest in renewable energy?
When you invest in renewable energy companies, you're helping to fight global warming and reduce pollution. Alternative energy sources help reduce emissions, create more jobs and fight global warming. Meanwhile, generate an excellent yield from your investments.
What are the best German renewable energy stocks?
There are multiple publicly-traded German renewable energy stocks but the most known are Encavis (ECV.DE) and Nordex (NDX1.DE). You can have a look at other publicly-traded renewable energy company stocks in the alternative energy stocks list.