Skrill is a well-known company for online payments, but that's not all. Skrill has added a new feature where users can trade cryptocurrencies without leaving the platform. So in this review, you'll find everything you need to know about Skrill crypto.
For those new to cryptocurrencies, trading can be daunting because of the assets' complex nature, high volatility and safety concerns. This review will cover the most common topics you need to know if you buy or plan to buy cryptocurrencies on Skrill.
Skrill Crypto and its features
It's crucial to understand that Skrill is not a crypto exchange or a crypto wallet. On Skrill, users buy and sell interests in certain cryptocurrencies. It means that you're also limited in what you can do with your crypto assets since Skrill only facilitates transactions in your name and holds them in a pool with other users.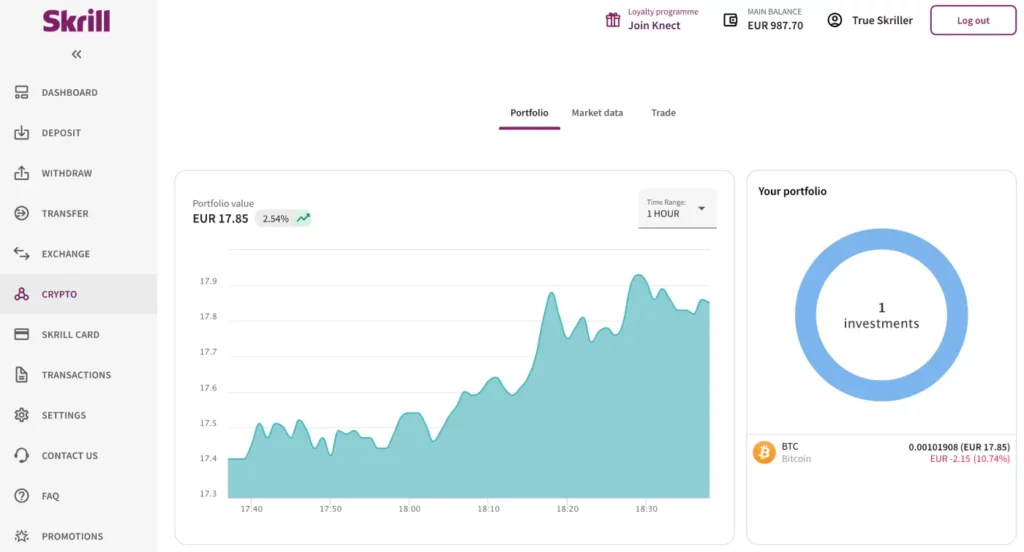 Key features:
Availability to buy and sell interests in certain cryptocurrencies starting from only $1.
Transfer crypto to other Skrill users.
Send crypto directly to a cryptocurrency address (limited to selected countries).
Usability

Crypto Fees

Safety

Features
Is Skrill the right platform for crypto?
Skrill is a convenient way to buy cryptocurrencies, as it supports a variety of cryptocurrencies. However, it's not a crypto exchange or a crypto wallet, but Skrill can be used as a deposit method for other cryptocurrency platforms. 
Withdrawals to crypto wallets are available in selected countries only and if you plan to trade cryptocurrencies on Skrill, it may get expensive due to high fees.
Ultimately, whether Skrill is good for cryptocurrency depends on how you plan to use it.
How does Skrill Crypto compare to other platforms?
Let's compare some of the most popular platforms with the same operating model. In short, Skrill is popular in the gambling and sports betting sector, which is not typical for most platforms.
Since cryptocurrencies took over the world, Skrill introduced the crypto feature to get more customers and keep the existing ones.
Please note the fees below are for the most basic accounts, where users don't have to pay for a subscription.

Best for
International investors
Demo account
Not available
Best for
International investors
Cryptoasset investing is highly volatile and unregulated in some EU countries. No consumer protection. Tax on profits may apply.
Best for
European investors
Crypto buying fee
1.99% + Exchange fair usage fee (+0.50%)
Demo account
Not available
Based on the table, eToro has lower fees than other platforms. However, it's essential to understand how these fees are calculated.
Skrill crypto fees explained
When buying cryptocurrencies on Skrill, you'll face multiple fees, and only some of them are related directly to cryptocurrency buying. So let's take a look at the Skrill fees one by one.
Crypto fees
The first one and the most important for crypto trading is a crypto exchange fee, which depends on the account type:
| Account type | Crypto Buying / Selling Fee |
| --- | --- |
| Skriller | 1.50% |
| True Skriller | 1.50% |
| Silver VIP | 1.40% |
| Gold/Diamond VIP | 1.30% |
To provide cryptocurrency service to its customers, Skrill has partnered with crypto exchanges. Although these fees may appear expensive, exchanges charge Skrill for buying cryptocurrencies on your behalf, and thus, there is little room for Skrill to vary with crypto fees.
Deposit fees
When you deposit funds into your Skrill account, you'll need to pay a fee depending on the funding method.
| Funding method | Fee | Time frame |
| --- | --- | --- |
| Wire Transfer | 0.00% | 2 – 5 days |
| Credit or Debit card | Up to 1.00% | Instant |
| Bank link (Trustly, Rapid Transfer) | Up to 1.25% | Instant |
| Paysafecash | Up to 2.50% | Instant |
| Paysafecard | Up to 5.00% | Instant |
Withdrawal fees
There's also a fee for withdrawing funds from your Skrill account, which varies based on the withdrawal method.
| Withdrawal method | Fee |
| --- | --- |
| Wire Transfer | 0.00% |
| SWIFT | GBP 4.66 (EUR 5.50) |
| Credit or Debit card | Up to 3.99% |
| Neteller | 3.49% |
| Crypto Wallet | 2.00% |
Is Skrill safe for crypto?
Skrill uses best practices to protect its users and accounts, but is it safe for cryptocurrencies?
Since cryptocurrencies are not currently regulated by the Central Bank of Ireland ("CBI"), neither are the Cryptocurrency Services provided to you under these terms.
We already know that Skrill is not an exchange. However, it has a feature to trade cryptocurrencies. So an additional layer of risk is added when using Skrill or any other cryptocurrency facilitator. If anything happens to Skrill's crypto service, users may be locked out of their cryptocurrencies as they are kept in a pool with other users, and technically Skrill would be the actual owner.
Be aware that there are risks associated with cryptocurrencies (i.e. if a partner crypto exchange delists a cryptocurrency). In that case, Skrill may require you to sell it in 14 days.
Buy crypto with Skrill using a different exchange
To get the most value for your Skrill funds when buying cryptocurrencies, use Skrill as a funding method on other platforms like eToro. The comparison table above shows that eToro has lower fees and a better crypto trading platform.
If you're looking to trade cryptocurrencies, eToro is a great option. They offer Skrill as a deposit method, and their trading fees are lower than on Skrill.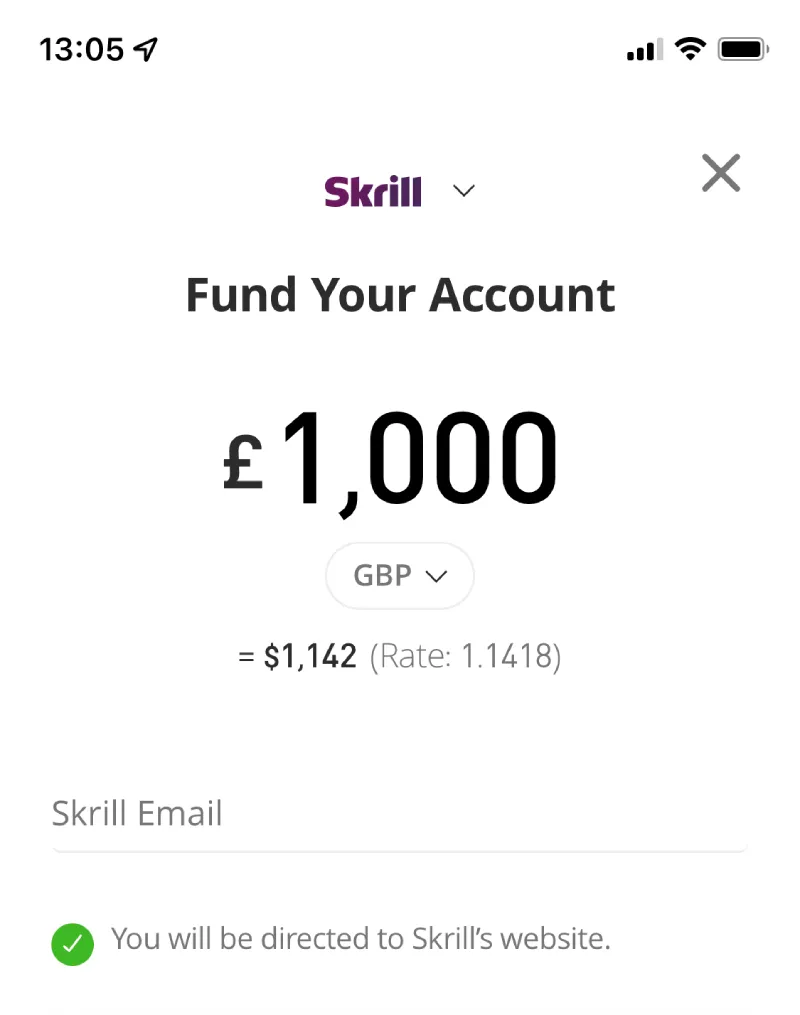 Cryptoasset investing is highly volatile and unregulated in some EU countries. No consumer protection. Tax on profits may apply.
Skrill crypto-list
| # | Name | Symbol |
| --- | --- | --- |
| 1 | 0x | ZRX |
| 2 | Aave | AVE |
| 3 | Ankr | ANK |
| 4 | Avalanche | AVX |
| 5 | Balancer | BAL |
| 6 | Bancor Network | BNT |
| 7 | Band | BAN |
| 8 | Bitcoin | BTC |
| 9 | Bitcoin Cash | BCH |
| 10 | Cardano | ADA |
| 11 | Celo | CLD |
| 12 | Chainlink | LNK |
| 13 | Compound | CMP |
| 14 | Cosmos | ATO |
| 15 | Curve | CRV |
| 16 | Dash | DSH |
| 17 | Decentraland | MAN |
| 18 | Dogecoin | DOG |
| 19 | EOS | EOS |
| 20 | Ethereum | ETH |
| 21 | Ethereum Classic | ETC |
| 22 | Internet Computer | ICP |
| 23 | Kyber | KNC |
| 24 | Litecoin | LTC |
| 25 | Loopring | LRC |
| 26 | Maker | MKR |
| 27 | NuCypher | NUC |
| 28 | Numeraire | NMR |
| 29 | OMG Network | OMG |
| 30 | Polkadot | DOT |
| 31 | Polygon | MAT |
| 32 | Shiba Inu | SHB |
| 33 | SKALE | SKL |
| 34 | Solana | SOL |
| 35 | Stellar Lumens | XLM |
| 36 | Storj | STO |
| 37 | SushiSwap | SHI |
| 38 | Synthetix Network | SNX |
| 39 | Tezos | XTZ |
| 40 | The Graph | GRT |
| 41 | Uma | UMA |
| 42 | Uniswap | UNI |
Skrill cryptocurrency list. Source: Skrill website
How to buy Bitcoin using Skrill
Before buying cryptocurrencies on Skrill, you should:
Create and verify your account;
Deposit funds into your Skrill account.
Time needed: 2 minutes
Buying cryptocurrencies on Skrill is simple because the app is intuitive and user-friendly.
Go to the "Crypto" section.

Login to your Skrill mobile app or web app and go to the "Crypto" section.


Pick a cryptocurrency.

In the crypto section, find a cryptocurrency you want to buy and click "buy".


Enter the amount.

Enter the amount you want to exchange for the chosen cryptocurrency. In our example, it is Bitcoin.


Confirm transaction.

Check the confirmation page and confirm your transaction if you agree to the terms and fees.


Transaction completed!

Congratulations, you've just bought crypto on Skrill.

Skrill crypto withdrawals
Withdraw to a crypto wallet – Skrill mentions that crypto withdrawals are easy, but cryptocurrency withdrawals to crypto wallets are currently available in selected countries only. It may take 24 hours to receive your cryptocurrencies in your wallet.
Withdraw to a bank account – First, you must convert your cryptocurrencies into regular FIAT currency before withdrawing the funds. So technically, you're withdrawing traditional money to your desired account.
Skrill crypto-supported countries
According to the Skrill cryptocurrency terms and conditions, cryptocurrencies are available in the following Skrill-serviced countries:
Albania, Algeria, Andorra, Argentina, Armenia, Aruba, Australia, Austria, Azerbaijan, Bahrain, Bangladesh, Belarus, Belgium, Bermuda, Bolivia, Bosnia and Herzegovina, Botswana, Brazil, British Virgin Islands, Brunei, Bulgaria, Cambodia, Cameroon, Canada, Cayman Islands, Chile, China, Christmas Island, Colombia, Costa Rica, Croatia, Cyprus, Czech Republic, Denmark, Dominica, Dominican Republic, Ecuador, Egypt, El Salvador, Estonia, Eswatini, Ethiopia, Falkland Islands, Finland, France, French Guiana, Georgia, Germany, Ghana, Gibraltar, Greece, Guam, Guatemala, Guernsey, Honduras, Hong Kong SAR of China, Hungary, Iceland, India, Indonesia, Ireland, Isle of Man, Israel, Italy, Jamaica, Jersey, Jordan, Kazakhstan, Kenya, Kuwait, Latvia, Lesotho, Liechtenstein, Lithuania, Luxembourg, Madagascar, Malawi, Malaysia, Maldives, Malta, Mauritius, Mexico, Moldova, Monaco, Mongolia, Montenegro, Morocco, Mozambique, Namibia, Nepal, Netherlands, New Zealand, Nicaragua, Nigeria, North Macedonia, Norway, Oman, Pakistan, Panama, Paraguay, Peru, Philippines, Poland, Portugal, Puerto Rico, Qatar, Romania, San Marino, Saudi Arabia, Senegal, Serbia, Singapore, Slovakia, Slovenia, South Africa, South Korea, Spain, Sri Lanka, Sweden, Switzerland, Taiwan, Tanzania, Thailand, The Bahamas, Trinidad and Tobago, Tunisia, Uganda, Ukraine, United Arab Emirates, United Kingdom, United States, Uruguay, US Virgin Islands, Uzbekistan, Vietnama and Zambia.
Check the Skrill non-serviced country list for countries that currently can't use Skrill services.
Note: Currently, Skrill stopped accepting new registrations from Russia.
FAQ
Can I buy crypto with Skrill?
Yes, Skrill does support buying and selling a selection of cryptocurrencies. You can also use Skrill as a deposit method to fund your account on other cryptocurrency platforms, i.e. eToro.
Is Skrill good for cryptocurrency?
That depends on how you plan to use it. If you want to hold onto your cryptocurrencies for investment purposes, Skrill can be a convenient platform. However, if you want to spend your cryptocurrencies directly, you'll need to transfer them to a different platform.