Trading 212 is a popular online trading app among many investors worldwide. However, the platform is primarily available to users from Europe. Currently, Trading 212 accepts users from 39 countries, while most countries are still unavailable or on the waitlist.
Check the lists below and discover the availability status of Trading 212 in your country.
If you haven't registered on the Trading 212 platform yet, you can open an account here and get a free stock worth up to €100 if you enter the promo code "GLOBE100" and fund your account at least with the minimum amount.
As with all investments, your capital is at risk. Investments can fall and rise, and you may get back less than you invested.
Check if Trading 212 is available in your country
The best way to find out if Trading 212 is supported in your country is to go to the Trading 212 website and begin the registration process.
Click on the "Open account" button, and the first thing that pops up is a country list.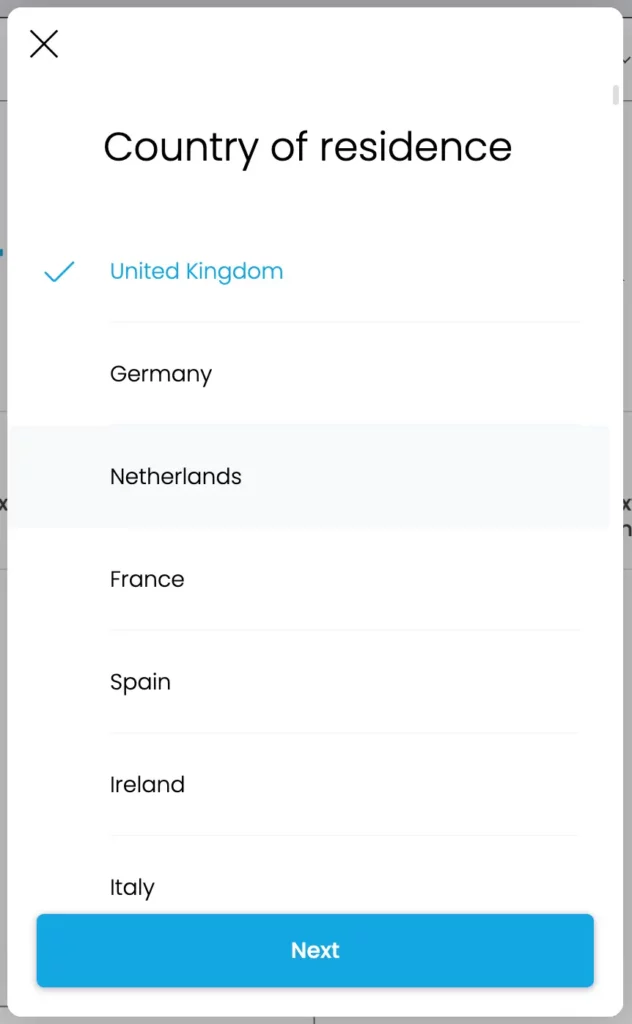 Select the country of your residence and click "Next". There are three scenarios:
The country you selected is supported. Then you'll be able to continue the registration process and select the account type.
The country is not supported. Then you'll see a pop-up that says, "Country not supported".
The country of your choice is on the waitlist. In this case, you'll be able to enter your email to get a notification when it becomes available.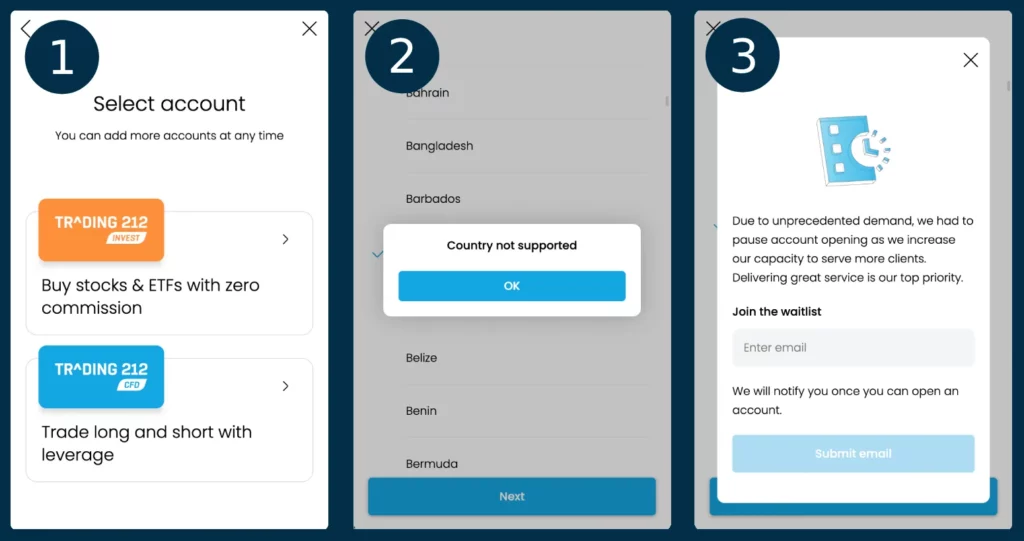 All Trading 212 supported countries
Currently, Trading 212 is available to residents in 39 countries. Below is a full list of supported countries. Since Trading 212 also offers CFD trading, you can see if it's available in a particular country too.
| Supported country | CFD Trading |
| --- | --- |
| Austria | Yes |
| Bulgaria | Yes |
| Croatia | Yes |
| Cyprus | Yes |
| Czech Republic | Yes |
| Denmark | Yes |
| Estonia | Yes |
| Finland | Yes |
| France | No |
| French Guiana | No |
| Gibraltar | Yes |
| Greece | Yes |
| Guadeloupe | No |
| Guernsey | Yes |
| Hungary | Yes |
| Iceland | Yes |
| Ireland | Yes |
| Isle of Man | Yes |
| Italy | Yes |
| Jersey | Yes |
| Latvia | Yes |
| Liechtenstein | Yes |
| Lithuania | Yes |
| Luxembourg | Yes |
| Malta | Yes |
| Martinique | No |
| Mayotte | No |
| Netherlands | Yes |
| Norway | Yes |
| Poland | Yes |
| Portugal | Yes |
| Reunion | No |
| Romania | Yes |
| Slovakia | Yes |
| Slovenia | Yes |
| Spain | Yes |
| Sweden | Yes |
| Switzerland | Yes |
| United Kingdom | Yes |
Trading 212 Supported Countries
It's important to note that the availability of the platform is subject to change, so it's best to use the method described above.
Countries where Trading 212 is not available
The following list includes all the countries where the platform is not accessible to residents at the moment. In total, there are 85 countries.
These countries are Afghanistan, Albania, Algeria, American Samoa, Angola, Anguilla, Australia, Bahamas, Barbados, Belarus, Belize, Benin, Bermuda, Bosnia and Herzegovina, Botswana, British Virgin Islands, Burkina Faso, Burundi, Cambodia, Canada, Cape Verde, Cayman Islands, Central African Republic, China, Congo, Costa Rica, Cote d'Ivoire, Cuba, the Democratic Republic of the Congo, Dominica, Equatorial Guinea, Ghana, Guam, Guinea, Guinea-Bissau, Haiti, Hong Kong, Iran, Iraq, Jamaica, Kenya, Kyrgyzstan, Laos, Lebanon, Liberia, Libya, Mali, Mauritius, Mongolia, Montenegro, Morocco, Mozambique, Myanmar, Nicaragua, Nigeria, North Korea, Northern Mariana Islands, Pakistan, Panama, Paraguay, Philippines, Puerto Rico, Russian Federation, Saint Kitts and Nevis, Senegal, Sierra Leone, Somalia, Sri Lanka, State of Palestine, Sudan, Syria, Tanzania, Tunisia, Turkey, Turkmenistan, Uganda, Ukraine, United States, Vanuatu, Venezuela, Vietnam, Virgin Islands U.S, Western Sahara, Yemen and Zimbabwe.
All Trading 212 waiting list countries
Trading 212 has a waiting list for countries that are not currently supported by the platform. Even though being on the waiting list may sound better than being "not available", it's important to note that residents from countries on the waiting list won't be able to use the app until the platform becomes available in their country.
Unfortunately, there's no specific Trading 212 waiting list time that you can count on. Still, if you see the message, you can enter your email address and get a notification when the app becomes available in your country. It's the best way to get an update on the country's waiting list.
There are 120 countries on the waitlist: Aland Islands, Andorra, Antarctica, Antigua and Barbuda, Argentina, Armenia, Aruba, Azerbaijan, Bahrain, Bangladesh, Belgium, Bhutan, Bolivia, Bonaire, Bouvet Island, Brazil, British Indian Ocean Territory, Brunei Darussalam, Cameroon, Chad, Chile, Collectivity of Saint Martin, Colombia, Comoros, Cook Islands, Curaçao, Djibouti, Dominican Republic, Ecuador, Egypt, El Salvador, Eritrea, Ethiopia, Falkland Islands, Faroe Islands, Fiji, French Polynesia, Gabon, Gambia, Georgia, Germany, Greenland, Grenada, Guatemala, Guyana, Heard Island and Mcdonald Islands, Holy See (Vatican City State), Honduras, India, Indonesia, Israel, Japan, Jordan, Kazakhstan, Kiribati, Kosovo, Kuwait, Lesotho, Macau, Madagascar, Malawi, Malaysia, Maldives, Marshall Islands, Mauritania, Mexico, Micronesia, Moldova, Monaco, Montserrat, Namibia, Nauru, Nepal, New Caledonia, New Zealand, Niger, Niue, Norfolk Island, North Macedonia, Oman, Palau, Papua New Guinea, Peru, Pitcairn, Qatar, Rwanda, Saint Barthélemy, Saint Helena, Saint Lucia, Saint Pierre and Miquelon, Saint Vincent and the Grenadines, Samoa, San Marino, São Tomé and Príncipe, Saudi Arabia, Serbia, Seychelles, Singapore, Sint Maarten, Solomon Islands, South Africa, South Korea, Suriname, Svalbard and Jan Mayen Islands, Swaziland, Taiwan, Tajikistan, Thailand, Timor-Leste, Togo, Tokelau, Tonga, Trinidad and Tobago, Turks and Caicos Islands, Tuvalu, United Arab Emirates, Uruguay, Uzbekistan, Wallis and Futuna and Zambia.
Alternatives to Trading 212
If Trading 212 is not currently available in your country of residence, it may be worth considering some alternative trading platforms. eToro is a popular option that has similar features and offers a wide range of investment opportunities.

*eToro is a multi-asset investment platform. The value of your investments may go up or down. Your capital is at risk.
Investors and traders widely use both platforms, and they offer a user-friendly interface, educational resources and a variety of investment options. It's always good to explore different options and compare the fees, features, and security measures before making a choice.
FAQ about Trading 212 availability
Is Trading 212 accepting new users?
Yes, Trading 212 is accepting new users. However, there are some countries where registration may be restricted. You can check the full list of currently supported countries here.
Is Trading 212 available in Canada?
No, Trading 212 is currently not available in Canada.
Is Trading 212 available in the USA?
No, Trading 212 is currently not available in the USA.
Is Trading 212 available in Australia?
No, Trading 212 is currently not available in Australia.