If you're new to the stock market and want to start investing, it's important to understand the basics first. We will cover the key concepts you need to know to start and invest in stocks today.
Investing in the stock market is not only for wealthy individuals. Today, you can begin with little money and build up your investment portfolio as you grow. We'll also provide tips on choosing the right broker, stock market and stocks for your portfolio.
Before we begin, risk tolerance is one of the most important things to consider when investing in stocks. This means – how comfortable you are with the possibility of losing some or all of your invested money. Investing in the stock market doesn't guarantee a profitable outcome. Consider your risk tolerance and invest accordingly.
When investing, the most important rule is "don't invest money you cannot afford to lose".
What is stock market investing, and how does it work?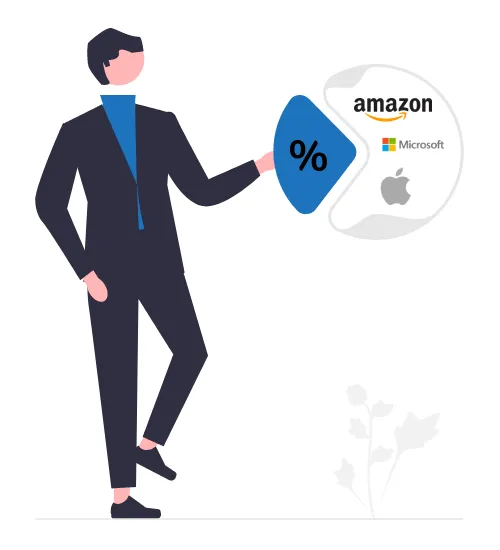 A stock market is a platform where companies and investors buy and sell a publicly traded company's stocks (or shares). As an investor, you provide capital to a company so that it can use the money to grow and generate more revenue.
When you invest in stocks, you essentially buy small pieces of ownership in these companies. As the company's value rises or falls over time, so do your investments. This means that you can potentially make a profit if the value of your stocks increases.
Basic principles that new investors should understand
Constructing a profitable stock portfolio can be a great investment experience, providing many life lessons. As a new investor, investing in stocks has many great benefits. You can begin by learning the basic principles.
Diversification – spreading your investment portfolio across different stocks. For example, instead of focusing solely on technology or financial companies, try investing in a mix of industries such as consumer goods, tech, healthcare, and utilities. This approach can help reduce risks and stabilize your portfolio if one particular area if the stock market experiences a downturn.
Understand how companies are valued – you should study financial metrics such as price-to-earnings (P/E) ratios, return on equity (ROE), and earnings growth rates. By analyzing these metrics and comparing them across different stocks, you can better understand how companies perform and make more informed investment decisions.
Think long-term – beginners tend to overreact to market fluctuations and make investment decisions based on emotions. As a result, they buy and sell stocks quickly, which can lead to poor investment performance. To be successful in the stock market, it's important to remain calm and focus on your long-term goals. This means you should only invest in stocks if you're willing to hold them for at least a year.
Liquidity – Stocks are highly liquid investments, meaning you can buy and sell them quickly and easily as needed. This makes it easy to access your investments and move money around to maximize your returns.
What do you need to begin investing in stocks?
You should meet the age requirements (usually 18 or over) and have some money to invest from savings. Never invest money you cannot afford to lose!
You will also need to do some research and due diligence on the stocks you are interested in, including looking at things like company financials, stock performance metrics, and industry trends. Depending on your investment goals, you may also need to choose an investment strategy or asset allocation plan that suits your risk tolerance and financial situation.
How to start investing in stocks?
If you're ready to begin your stock investment journey, here's the step-by-step process:
Pick the most suitable investment approach.
Open an investment account.
Pick an investment strategy.
Find stocks you want to buy and make your first investment.
1. Most common ways to invest in stocks
There are several approaches that you can use when investing in stocks:
Work with a financial advisor who can help you build your investment portfolio. This typically involves setting up an account with a brokerage firm and choosing stocks to invest in.
A do-it-yourself approach using an online trading platform – Most people start investing this way. Usually, these platforms have various research tools and features to monitor the market and manage your investments. This may require more time and effort upfront but can help you significantly save on fees and commissions while giving you more control over your investment portfolio.
Copy other investors on social trading platforms like eToro, which allow you to follow and copy the investment decisions of experienced traders in real-time. This strategy can be an excellent way to start investing in the stock market if you are new to it.
In either case, the key is to get started as early as possible, start learning about the stock market and investing principles, and build healthy investment habits that can help you achieve your long-term financial goals.
2. Pick the best stock trading app for beginners
There are hundreds of different stock brokers, platforms and trading apps. If you're starting, it's easy to get overwhelmed by many offers in the market.
To pick the best stock trading app for beginners, you should consider factors like ease of use, cost, available features and tools, fees, educational resources, customer support, and more.
Depending on your location, you can have a look at some of the best stock trading apps for beginners:

Use a Trading 212 promo code "GLOBE100".
Best for
European investors
*Your capital is at risk.

Best for
European & International investors
Min. Deposit
From $10 (Depending on location)
*eToro is a multi-asset investment platform. The value of your investments may go up or down. Your capital is at risk.

Best for
European investors
Demo account
Not available
*Investing involves the risk of loss.
Demo account
Not available
3. Common stock investing strategies
There are many ways to invest in stocks, but some methods are more common than others. Here are a few of the most popular stock investment strategies:
Buying and holding: Many investors buy stocks and hold them long-term until they reach their desired level of growth. This is a relatively passive strategy that can be suitable for beginner investors.
Dollar-cost averaging: With this method, you're investing a fixed sum of money into security at regular intervals, regardless of the current price. Over time, this technique will average out your cost per share as prices fluctuate up and down.
Active trading: Active traders buy and sell securities frequently to take advantage of short-term price movements. This strategy requires constant monitoring and can be risky if not done carefully.
Value investing: This strategy involves looking for undervalued securities with strong long-term fundamentals and growth potential. It can be a good approach for investors looking for more stability and control.
4. How do you choose the right stocks to invest in?
Finding the best stocks can be challenging, and you'll need to do your homework before buying. So how do you find the best stocks to invest in? Here are some key things to look for:
Strong financial performance – you should focus on companies with positive earnings growth, solid revenues, and a proven track record of success.
Positive industry outlook – ensure that the sector you're investing in is growing rather than shrinking. This will help protect your investments from downturns and ensure they remain profitable over the long term. It also helps if you're familiar with the industry you invest in. You can focus on companies that are leaders in the particular industry.
Market knowledge and experience – When investing domestically, you are more likely to be familiar with the local market and current trends. This can help you make more informed investment decisions and use the knowledge you acquire and experience yourself.
Dividend payments – look for companies that regularly pay out dividends, which can be reinvested in the stock market or used as income.
You should evaluate many factors and take a disciplined approach to choose the right stocks for your investment portfolio.
How to buy stocks (step-by-step)
Since we now understand the necessary steps to invest in the stock market, let's look at a real example of buying stocks with one of the brokers mentioned above.
Time needed: 15 minutes
Here's a step-by-step process on how to buy stocks on eToro, which is highly trusted in the industry and has high-security standards.
Sign up for an account

Before getting access to stocks, you need to create an account on eToro. This is where you will buy and sell publicly traded company shares.


Verify your account and identity

You will be asked to verify your email address, identity etc. There are specific regulations that require financial institutions to check their users. It's a standard procedure.


Deposit funds into your account

Deposit at least the minimum required amount. For most countries, it's $10 or $50. However, it varies on the location you're based.


Pick the company you want to invest in

Find a company you want to invest in using the internal search function and click on the "Invest" button. In our example, we'll buy Volkswagen AG shares.


Invest in the company of your choice

Once you pick the company, enter the amount and open trade to buy stocks. That's it! You've just invested in a publicly traded company.

When investing with eToro or Trading 212, you'll see that there's also an option to buy stocks with leverage. It allows investors to invest more capital than they have deposited. Be careful with this feature!
While investors can make more money if the price of the stock they buy rises, they can also lose more money if the price falls. This type of trade is riskier and not suitable for beginners.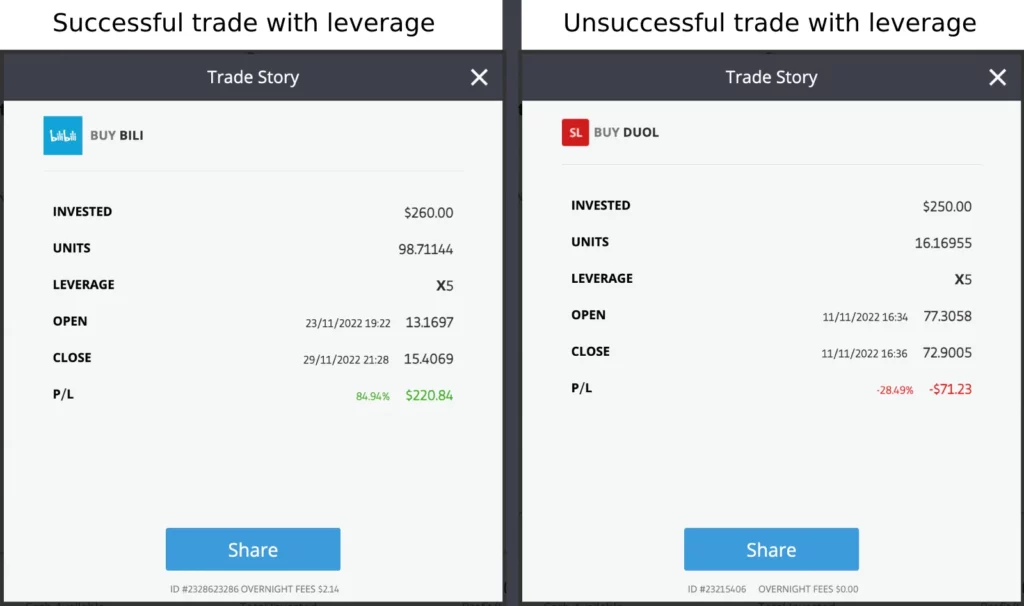 When buying shares with leverage, you also have to consider the fees.
Practice stock trading in a demo account
If you don't feel like investing in the stock market yet, you can practice stock trading in a risk-free demo account. This allows you to get used to trading platforms, managing orders and tracking your investments without risking your capital.
Not all brokers or platforms offer a demo stock trading feature, so below you can find platforms where you can practice stock trading in a demo account:

*Your capital is at risk.

*eToro is a multi-asset investment platform. The value of your investments may go up or down. Your capital is at risk.
Tips for beginner stock investors
Start small: Don't feel pressured to invest large amounts immediately. Instead, start with small investments you can afford and gradually build up your portfolio over time. This will help you limit losses and reduce risk while allowing your portfolio to grow.
Do your research: Perform thorough research on potential companies and their financial performance. This can include looking at sector trends, reading company news and obtaining professional advice from analysts or experts.
Diversify: Invest in various sectors, buying domestic and international shares or purchasing different stocks.
Manage your capital wisely: Managing your capital effectively is one of the most important steps in stock trading, and it's also one of the hardest to master. This involves setting stop-loss limits and managing your orders carefully to ensure you control your investments at all times.
FAQs about stock market investing
What is stock market investing?
Stock market investing refers to buying and selling stocks and other securities on a stock exchange to earn profits from price fluctuations in those securities over time.
How do I get started with stock market investing?
You can do several things to get started with stock market investing. These include researching potential investments, choosing a broker or platform, opening a trading account, and learning about the fundamentals of stock trading and market trends.
What are some common risks associated with stock market investing?
Some main risks associated with stock market investing include volatility, loss of capital, and increased exposure to fraud or scams. For this reason, it is crucial to research potential investments carefully, choose reliable brokers or trading platforms, and follow best practices for managing your investments.
How can I manage my stock market investments effectively?
There are several key strategies that you can use to manage your stock market investments effectively. These include setting stop-loss limits, diversifying your portfolio, and carefully tracking your orders and the investment performance over time. Other valuable strategies may include seeking professional advice or joining a trading community for support and guidance.